Palliative and End of Life Care for Children and Young People: Home, Hospice, Hospital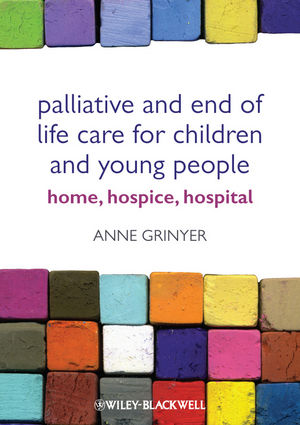 Palliative and End of Life Care for Children and Young People: Home, Hospice, Hospital
ISBN: 978-1-119-96832-0
Dec 2011, Wiley-Blackwell
272 pages
Description
"Anne's contribution to our understanding of the needs of young people with cancer has been unparalleled and without her extraordinary insights our services would be that much poorer."
From the foreword by Simon Davies , CEO Teenage Cancer Trust

This topical and timely text provides valuable insights into the choices and experiences of palliative and end of life care for young people with cancer and other life limiting illnesses. With a focus on palliative care provision across a range of different clinical settings, this comprehensive new resource explores care in the home, the hospice and hospital. It looks at how and where families and young people can access palliative care, and what support is offered to attain their preferred place of death. Bereavement support for families is discussed, as well as a discussion of multidisciplinary work, interagency co-operation and resource issues.

This title is essential reading for community children's nurses, specialist palliative care teams, children's hospices, school nurses, social workers and student nurses as well as families.
A comprehensive resource on end of palliative are provision for children and young adults with cancer and other life limiting illnesses
Timely and topical, tying in with the Department of Health palliative care strategy 'Better Care: Better Lives'
Written in an accessible style that does not assume either detailed medical or theoretical knowledge
Explores palliative care provision in a range of different clinical settings including the home, hospice, and hospital
Provides valuable insights into the experiences of parents, children and young people
Participants viii
Foreword xii
Preface xiii
Acknowledgements xv
Abbreviations xvi
1 Palliative and End of Life Care for Children and Young Adults 1
2 Home-based Palliative and End of Life Care 15
3 Hospice-based Palliative and End of Life Care 49
4 Hospital-based Palliative and End of Life Care 87
5 Preparation for the End of Life, Bereavement and Emotional Support 117
6 The Implications for Policy and Practice 155
Appendix: Methodology 169
References 175
Index 181
"The usefulness of this book lies in the personal interviews and challenges of real people facing real problems in caring for their child or young adult. The years of research that went into this book speak volumes about the dedication of this author."  (
Doody's
, 8 March 2013)
"If your work involves caring for younger people at the end of life, you will recognise the hurdles and the problems, and reading this book will encourage you to think about how we can make these services better and more appropriate."  (IAHPC News, 1 December 2012)
"Overall the authors' extensive knowledge and experience in the field enliven this book with a well balanced critical appraisal of the current issues, a touch of humility and an impassioned plea for better understanding and services for young people. It's a worthy addition to anyone's collection and deserves to succeed."  (Nursing Times, 31 July 2012)
"This book offers valuable insight into what it is like to care for a child or young person who is dying . . . It is an excellent resource for nurses working in hospital, hospice and community settings, for those in strategic roles and for nurses and allied health professionals undertaking academic study."  (Cancer Nursing Practice, 1 July 2012)
"This book will undoubtedly be of use to nursing and health-care students seeking prompts to help them consider problem issues in palliative care practice, or possibly to help identify new research questions. Practitioners in palliative services will also find it a useful resource for illuminating the experiences of individuals and families in their care."  (International Journal of Palliative Nursing, 2012)
"The book is nicely balanced reporting on the needs of teenagers with cancer and the different challenges facing children living with complex, long-term healthcare needs."  (Nursing Children and Young People, 1 June 2012)