Paper Crafts VISUAL Quick Tips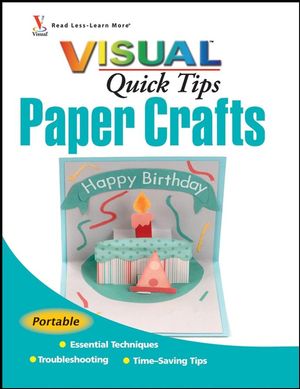 Paper Crafts VISUAL Quick Tips
ISBN: 978-0-470-29324-9
Jun 2008
214 pages
Product not available for purchase
Description
Paper Crafts VISUAL Quick Tips features tips, tricks, and answers to your questions about everything from the basic techniques to the hottest new methods for creating beautiful scrapbook pages, greeting cards, invitations, art journals, gift tags, collage art, artist trading cards, and various home décor items. The detailed color photographs and concise instructions make it easy for anyone to create beautiful paper crafts, regardless of experience. You'll save money on store-bought items and find satisfaction in creating special handmade crafts.
1 Introduction to Paper Crafts.
Types of Paper.
Cut It Up.
Choose Adhesives.
Other Supplies.
Use a Color Wheel.
Color Scheme Examples.
Create a Mood with Color.
2 Getting Started Scrapbooking.
Why Scrapbook?
Choose Your Album.
Common Album Sizes.
The Basics of a Layout.
Make Your First Page.
Mat a Photo.
Matting Techniques.
Create a Focal Point.
Scrapbook Page Gallery.
3 Card Making Basics.
Envelope Sizes.
Scoring and Folding.
Make Your Own Envelopes.
Photo Greeting Cards.
Match Book Invitations.
File Folder Cards.
Make a Library Pocket Card.
Window Cards.
Pop-Up Cards.
Dry Embossing Cards and Envelopes.
Birthday Card Organizer.
Recipe Book.
Card Gallery.
4 Book Making.
Basic Mini-Book.
Baby's First Year Mini-Book.
Mini-Book on a Scrapbook Page.
Envelope Book.
Travel-Themed Envelope Book.
Accordion Book.
Paper Bag Book.
Friends Paper Bag Book.
Container Books.
5 Stamping.
Types of Stamps.
Ink Pads and Cleaners.
Stamping Lettering.
Stamping with Bleach.
Pieced Stamping.
Double Stamping.
Heat Embossing.
Embellishing Stamping.
6 Crafting Techniques.
Texture on Paper.
Inking.
Chalking.
Geometric Borders.
Serendipity Squares.
Paper Piecing.
Sewing on Paper.
Folded Paper Ribbon.
Vellum Envelope.
Quilling.
Quilling Combined Shapes.
Quilling a Bouquet of Roses.
Eyelets.
Brads.
Silk Flowers.
7 Lettering Styles.
Printing on Vellum.
Printing on Transparencies.
Printing on Cork, Fabric, and Ribbon.
Printing on Tags and Die-Cuts.
Label Maker Lettering.
Stamping and Templates.
Layered Letters.
Shaker Letters.
Tag Shaker Titles.
Chipboard Monogram Letters.
Clay Letters.
Stencil Paste Letters.
8 Adding Artistic Flair.
Collage Wall Art.
Tissue Paper Decoupage.
Art Journaling.
Sample Art Journals.
Artist Trading Cards.
Artist Trading Card Gallery.
9 Crafting Home Décor.
Wooden Photo Cubes.
Photo Cube Puzzle.
Decorated Photo Frames.
Paper Pieced and Decoupaged Lamp.
Scrapbooking on Canvas.
Sparkle Lights.
Tween Mobile.
Art Clock.
Letter Blocks.
Appendix: Patterns.
Index.