Paper Engineering and Pop-ups For Dummies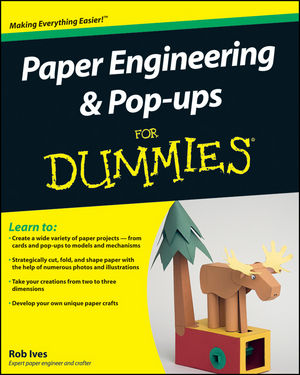 Paper Engineering and Pop-ups For Dummies
ISBN: 978-0-470-48061-8 February 2009 272 Pages
Description
Paper Engineering & Pop-ups For Dummies covers a wide range of projects, from greeting cards to freestanding models. Easy-to-follow, step-by-step instructions and dozens of accompanying diagrams help readers not only to complete the diverse projects in the book, but also master the skills necessary to apply their own creativity and create new projects, beyond the book's pages.
Table of contents
Introduction.
Part I: Introducing the Magic of Paper Engineering.
Chapter 1: Unfolding the Mystery of Paper Engineering.
Chapter 2: Paper — The Essential Ingredient.
Chapter 3: Making Your Paper-Engineering Workshop Work for You.
Chapter 4: Putting Everything Together: Techniques and Safety Tips.
Part II: Going Flat Out: Commencing with Creative Paper Crafts.
Chapter 5: Whipping Up Cards and Flyers, from Classy to Crafty.
Chapter 6: Making a Pop with Your Pop-up.
Chapter 7: On the Slide: Moving Along with Tabs and Wheels.
Chapter 8: Mixing It Up! Pop-ups, Pull Tabs, and Cross-Fades, All in One.
Part III: Paper Sculpture and Animation: Adding Some 3D Life to Paper.
Chapter 9: Paper Sculpture: 3D Art from Paper or Card.
Chapter 10: Lights, Cams, Action! Having Fun with Paper Animations.
Chapter 11: Getting Past the Limitations of Paper in Your Paper Animations.
Chapter 12: Using Mechanisms to Bring Models to Life.
Part IV: Drafting Your Own Designs and Creations.
Chapter 13: Developing Your Own Designs.
Chapter 14: Using Technology to Design Your Own Projects.
Chapter 15: Making Some Extra Moolah by Selling Your Paper Creations.
Part V: The Part of Tens.
Chapter 16: Ten Tips for Perfect Paper Projects.
Chapter 17: Ten Ways to Develop Your Design Skills.
Index.