Paper Flow: Your Ultimate Guide to Making Paperwork Easy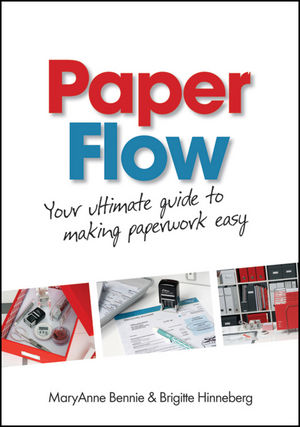 Paper Flow: Your Ultimate Guide to Making Paperwork Easy
ISBN: 978-0-730-37704-7
Jul 2011, Wrightbooks
176 pages
Product not available for purchase
Description
Tame your paperwork beast in just 10 minutes a day!
Are you wasting your hard earned money on late fees and fines? Does your inbox look more like an outhouse? Do you lose precious time searching for receipts, forms, or other important documents? Do you wonder what it would be like if you had a reliable, easy-to-use paper management system to restore order to your life? Stop wondering. The perfect guide for anyone who dreams of digging out from under their paperwork nightmare, Paper Flow arms you with a beautifully simple system for handling all the paper in your life. Never again will you waste valuable time on mad hunts through purses and pockets and piles of disparate papers for airline tickets, prescriptions, vouchers, invitations, phone numbers, or winning lottery tickets. With minimal effort, and just ten minutes a day, you'll conquer routine tasks like paying bills, handling correspondence, and filing. And you'll manage projects at home or work in less time than you ever thought possible.
A simple, easy-to-use system for getting on top of your paperwork and keeping it organized and flowing
A companion website features checklists, templates, plus a free program, The 28 Day Challenge, that helps you start bringing your paperwork beast to heel right away
Provides a framework that allows you to create a system that's tailor-made for your needs and lifestyle
About the authors
A word from the authors
Introduction
1 The cost of paper chaos
2 Harness your incoming paper in seconds
3 Staying on top of routine paperwork
4 Power through your projects
5 Find it when you need it
6 Onwards and outwards
7 Put Paper Flow to work anywhere
8 Frequently asked questions
Appendix 1 – Example Paper Flow Schedule
Appendix 2 – Meaning of colours
Appendix 3 – What should I keep?
Appendix 4 – Example Templates for the Front of Reference Files
Gallery of Tools
Acknowledgements
About in8
About Milking It
About Did You Remember The Milk?