Paper and Paperboard Packaging Technology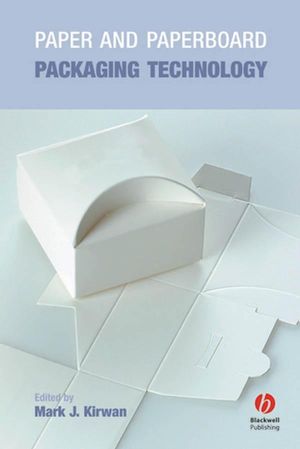 Paper and Paperboard Packaging Technology
ISBN: 978-1-405-16845-8 April 2008 Wiley-Blackwell 456 Pages
Description
This book discusses all the main types of packaging based on paper and paperboard. It considers the raw materials and manufacture of paper and paperboard, and the basic properties and features on which packaging made from these materials depends for its appearance and performance. The manufacture of twelve types of paper- and paperboard-based packaging is described, together with their end-use applications and the packaging machinery involved. The importance of pack design is stressed, and how these materials offer packaging designers opportunities for imaginative and innovative design solutions. Environmental and waste management issues are addressed in a separate chapter.
The book is directed at those joining companies which manufacture packaging grades of paper and paperboard, companies involved in the design, printing and production of packaging, and companies which manufacture inks, coatings, adhesives and packaging machinery. It will be essential reading for students of packaging technology.
Table of contents
Contributors.
Preface.
Acknowledgements.
1. Paper and paperboard - raw materials, processing and properties.
(Mark J. Kirwan).
2. Environmental and waste management issues.
(Mark J. Kirwan).
3. Paper-based flexible packaging.
(Mark J. Kirwan).
4. Paper labels.
(Michael Fairley).
5. Paper bags.
(Welton Bibby & Baron Ltd).
6. Composite cans.
(Catherine Romaine).
7. Fibre drums.
(Fibrestar Drums Ltd).
8. Multiwall paper sacks.
(The Environmental and Technical Association for the Paper Sack Industry).
9. Rigid boxes.
(Michael Jukes).
10. Folding cartons.
(Mark J. Kirwan).
11. Corrugated fibreboard packaging.
(Joël Poustis).
12. Solid fibreboard packaging.
(Mark J. Kirwan).
13. Paperboard-based liquid packaging.
(Mark J. Kirwan).
14. Moulded pulp packaging.
(Chris Hogarth).
Index
Reviews
"This book is a valuable addition to the library of any forward-looking company by providing in-depth coverage of all aspects of packaging which involve the most ecologically acceptable material, namely paper and paperboard."
Pauline Russell, International Journal of Dairy Technology, Vol. 60, Number 4, p. 300, November 2007

"The book is directed at those joining companies with manufacture packaging grades of paper and paperboard, companies involved in the design, printing and production of packaging, and companies which manufacture inks, coatings, adhesives and packaging machinery. It will be essential reading for students of packaging technology."
Food Trade Review, Vol 76 Jan 2006

"...a welcome contribution to a field where coverage was previously limited to subject-specific books...or to single chapters in textbooks on broader aspects of packaging technology."
Packaging Technology and Science, Vol 19, Issue 3, 2006
Features


A comprehensive source of reference to this major packaging sector

The Editor has a lifetime's experience within the packaging industry

A chapter is included on the important considerations of the environment, packaging reduction and the options available for waste management