Paradise Lost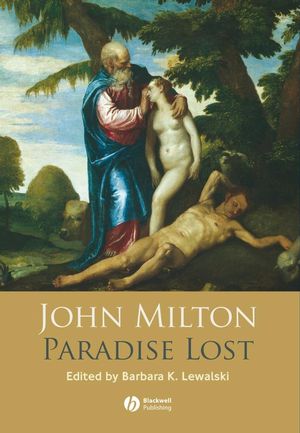 Paradise Lost
ISBN: 978-1-405-12928-2 August 2007 Wiley-Blackwell 392 Pages
Description
In this authoritative edition of John Milton's epic poem, Paradise Lost is presented in the original language of its 1674 publication, with explanatory annotations and word glosses.



Edited by one of the world's leading Milton scholars, the author of the acclaimed The Life of Milton (Blackwell 2000), which won the Milton Society of America's James Holly Hanford Book Award

Offers readers the opportunity to experience the brilliance and beauty of Paradise Lost as it was experienced by his contemporaries

Presents Paradise Lost in its original 1674 form

Incorporates accidentals (spelling and punctuation) from the 1674 edition

Recovers Miltonic rhythms, pronunciations, and sound qualities often lost in modern editions

Annotates names, places, biblical and literary allusions, and unfamiliar words

Includes illustrations by John Baptista Medina from the 1688 Folio edition
Note on This Edition.
Acknowledgments.
List of Illustrations.
Chronology.
Introduction.
Textual Introduction.
PARADISE LOST.
In Paradisum Amissam Summi Poetæ (S[amuel] B[arrow] M. D.).
On Paradise Lost (A[ndrew] M[arvell]).
The Verse.
Book 1.
Book 2.
Book 3.
Book 4.
Book 5.
Book 6.
Book 7.
Book 8.
Book 9.
Book 10.
Book 11.
Book 12.
Textual Notes.
Appendix: Sketches for Dramas on the Fall, from the Trinity Manuscript.
Select Bibliography
"A welcome complement to the large and growing collection of fine modernized texts of Milton's poetry and prose currently in print." (
Studies in English Literature
, Winter 2008)
"[The book] prints its notes on the same page as the text - and thus makes them easily accessible. Its readable typeface makes it the best of the old-spelling editions currently available. It scrupulously adheres to the originally published forms of the language wherever possible." (Times Literary Supplement, December 2008)


The first of three paperback volumes presenting authoritative texts of the complete poetry and major prose of John Milton

Edited by one of the world's leading Milton scholars, the author of the acclaimed The Life of Milton (Blackwell 2000), which won the Milton Society of America's James Holly Hanford Book Award

Offers readers the opportunity to experience the brilliance and beauty of Paradise Lost as it was experienced by his contemporaries

Presents Paradise Lost in its original 1674 form

Incorporates accidentals (spelling and punctuation) from the 1674 edition

Recovers Miltonic rhythms, pronunciations, and sound qualities often lost in modern editions

Annotates names, places, biblical and literary allusions, and unfamiliar words

Includes illustrations by John Baptista Medina from the 1688 Folio edition