Parameters of Remembering and Forgetting in the Transition from Infancy to Early Childhood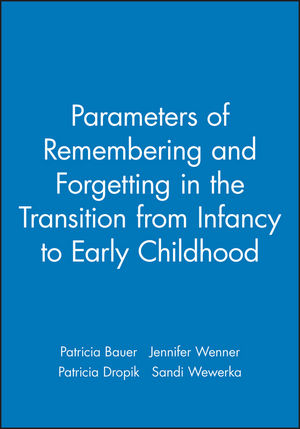 Parameters of Remembering and Forgetting in the Transition from Infancy to Early Childhood
ISBN: 978-0-631-22572-0
Apr 2000, Wiley-Blackwell
200 pages
Description
An exploration of memory formation in young children
Parameters of Remembering and Forgetting in the Transition from Infancy to Early Childhood details research findings related to long-term memory formation in young children. While it has long been assumed that adults do not retain memories of their infancy, this study explores the possibility that long-term memories do form, and may manifest in different ways as a child matures. This book explores the study's methods, events, and analysis of results, with extensive appendices that provide additional information regarding the testing system, analysis parameters and control, and the specifics of research design that allayed effects on the participants' performance.
Abstract.
1. Introduction.
2. Method and Analytic Strategy.
3. Children Tested on Four-Step Event Sequences.
4. Children Tested on Three-Step Event Sequences.
5. Sixteen-Month-Olds Tested on Four-Step Event Sequences Compared with 16-Month-Olds Tested on Three-Step Event Sequences.
6. Predictions of Long-Term Mnemonic Performance.
7. Summary and Interpretation of Major Findings.
8. Implications of the Findings and Conclusions.
Appendix A: Event Sequences Used.
Appendix B: Potential Effects on Childrens' Performance of Features of the Research Design.
Appendix C: Potential Effects on Children's Performance of Child Language and Gender.
References.
Acknowledgements.
Commentary: Historical and Future Trends in Studying the Development of Long-Term Retention: Mark L. Howe.
Contributors.
Statement of Editorial Policy.