Parent Power: Bringing Up Responsible Children and Teenagers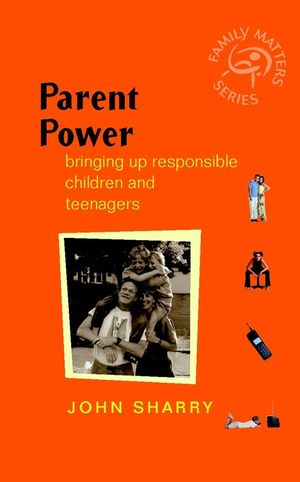 Parent Power: Bringing Up Responsible Children and Teenagers
ISBN: 978-0-470-85023-7
Dec 2002
220 pages
Description
A step-by-step guide to bringing up happy, responsible children...

One of the greatest challenges any parent will face, is teaching their children the difference between right and wrong and helping them to learn good social behaviour, whilst maintaining a satisfying, loving relationship.

Today, more than ever before, parents are concerned about their children's behaviour and its effect not only on the child, but also upon society.

This step-by-step guide provides well-researched information for parents who want to positively encourage their children and teenagers to behave well and to achieve their full potential.

A practical guide which incorporates plenty of useful advice on issues such as:

? Providing positive attention for children
? Using rewards
? Communicating Effectively
? Empowering Teenagers
? Negotiating Rules and Boundaries
About the Author.

INTRODUCTION.

Parenting - a roller coaster ride.

Pausing to think about your parenting.

PART 1: BEING A PARENT OF A YOUNG CHILD.

Step 1 Providing positive attention to children.

Step 2 Play and special time with children.

Step 3 Encouragement and praise.

Step 4 Using rewards.

Step 5 Setting rules and helping children keep them.

Step 6 Ignoring misbehaviour.

Step 7 Time Out and other sanctions.

Step 8 Talking things through/Family meetings.

PART 2: BEING A PARENT OF A TEENAGER.

Step 9 Pausing to understand teenagers.

Step 10 Connecting with your teenager.

Step 11 Getting to know your teenager.

Step 12 Empowering teenagers.

Step 13 Communicating effecitvely - listening and speaking up.

Step 14 Managing conflict.

Step 15 Negotiating rules and boundaries.

Step 16 Solving problems/Talking things through.

RENEWALS AND RESOURCES.

Parents caring for themselves.

Seeking further help and support.

Index.
""…indispensable guide…"" (Irish Times, 14 January 2003)
"...a good guide for this tricky stage"" (The Sun, 29th September 2004)