Parenting For Dummies, UK Edition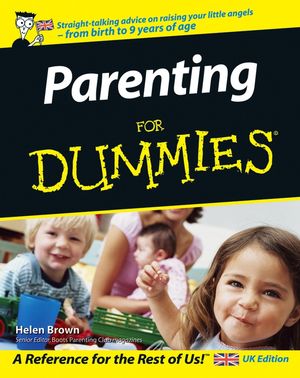 Parenting For Dummies, UK Edition
ISBN: 978-1-119-99709-2 February 2011 416 Pages
Description
Having a baby is an incredible experience, and the ultimate responsibility! Parenting is a job that you start with no training at all – and friends and family always seem to be the first to tell you how best to bring up your children. But there's no sure-fire formula for raising kids. Maybe that's because every child, like every parent, is an individual, and no two parent-child relationships are ever the same. So, you can give up any notions of being a perfect parent. But, you can learn to keep the big mistakes to a minimum and make the parenting experience easier and more rewarding for your children and yourself. Which is where this book comes in.
Covering information for newborns to pre-teens, Parenting For Dummies gives you the essentials of parenting basics. From dealing with a crying baby and potty training, to building self-esteem and dealing with sibling rivalry, it offers a gold mine of up-to-date advice.
Table of contents
Introduction.
Part I: All About You: What Every Parent Should Know.
Chapter 1: Help! Where Do I Start? The Basics.
Chapter 2: You're in Charge: Setting Boundaries.
Chapter 3: You Are Not Alone: Massing the Troops.
Chapter 4: Other Secrets of Great Parenting.
Chapter 5: Childminders, Nurseries, and Nannies.
Part II: All About Babies.
Chapter 6: Surviving, Thriving, and Diving In: Getting Accustomed to Having a Baby.
Chapter 7: Mmmm, Mmmm, Good: Feeding Baby.
Chapter 8: Moving on to Solids.
Chapter 9: Sweet Dreams: Getting Baby to Sleep.
Chapter 10: Playing, Learning, and Socialising.
Part III: All About Toddlers.
Chapter 11: Keeping Baby Healthy.
Chapter 12: Potty-Training.
Chapter 13: Tantrum Tactics.
Chapter 14: Food and Sleep.
Chapter 15: Keeping Your Toddler Safe.
Chapter 16: Playing, Learning, and Socialising.
Part IV: All About Preschoolers.
Chapter 17: Behaviour and Discipline.
Chapter 18: Food Fights and Sleep Frights.
Chapter 19: Playing, Learning, and Socialising.
Chapter 20: Heading to Preschool.
Part V: All About Schoolies.
Chapter 21: Starting School.
Chapter 22: Eating, Sleeping, and Staying Healthy.
Chapter 23: Behaviour and Responsibility.
Chapter 24: Friends, Self, and the World Beyond.
Part VI: All About Siblings.
Chapter 25: The New Arrival.
Chapter 26: Squabble Solutions.
Chapter 27: Loving Them All the Same.
Part VII: The Part of Tens.
Chapter 28: Ten Ways to Keep Your Cool.
Chapter 29: Ten First-Aid Must-Knows.
Chapter 30: Ten Things You Need For Your Baby (And Ten Things You Don't).
Index.
Reviews
"…practical advice…" (
motheratwork.com
, December 2006)
…down to earth advice and practical answers for dealing with kids from newborn to pre-teens. Read it and relax!" (Best, February 2007)
"If you're after a book that does exactly what it says on the tin, this is it…Well done, Helen!" (Families South West Magazine, March 2007)
"…essential reading for all new mums and dads…a refreshing look at the trials and tribulations of bringing up children". (Scotland's Weekly News, 21st April 2007)