Parenting Skills Homework Planner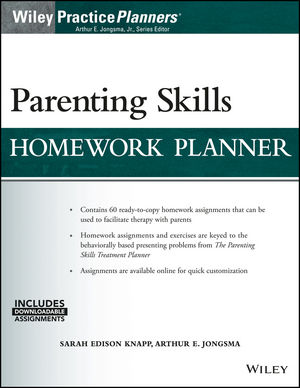 Parenting Skills Homework Planner
ISBN: 978-1-119-29757-4
Jan 2017
400 pages
Product not available for purchase
Description
Ready-to-use therapeutic exercises for overcoming parenting deficits
The Parenting Skills Homework Planner provides complete, customizable, copy-ready exercises for use with parents in therapy. Designed as a companion for the Parenting Skills Treatment Planner, this invaluable resource can also be used alone to facilitate counseling and help clients take a more proactive role. Organized by topic, each section provides specific goals for each exercise and suggests additional exercises that may help clients organize their thoughts and behaviors surrounding complex family dynamics. From behavioral problems and negative relationships to career development, blended families, grandparenting, and much more, this book provides practical tools for therapists helping clients navigate the landmines of parenthood.
In an era of brief therapy, tangible homework assignments help clients continue their therapeutic work outside of the session, offering a quicker, more effective route to solving parenting skills deficits. This book provides insightful prompts and helpful exercises designed to uncover the root of the problem, focus on a solution, and help clients think deeply and critically about past and ongoing behaviors and habits.
Use tested homework assignments independently, or in alignment with the Parenting Skills Treatment Planner
Customize each exercise to suit each client's situation using downloadable files
Help clients get more out of therapy by using time between sessions productively
Tackle issues relating to abuse, depression, school difficulties, divorce, poverty, and more
Today's complex family structures, combined with increased childhood pressures from school, peers, and the general culture, make parenting a more difficult job than ever before. Homework assignments extend therapy into family time, and facilitate constructive thought and discussion outside of the session. With 60 customizable exercises tailored to specific parenting problems, the Parenting Skills Homework Planner is an essential resource for the family therapist.
Practice Planners Series Preface.
Acknowledgments.
Introduction.
SECTION I--Abusive Parenting.
Exercise I.A Our Family's Secret Story.
Exercise I.B Measuring Our Feelings.
SECTION II--Attention- Deficit /Hyperactivity Disorder (ADHD).
Exercise II.A ADHD Accommodations Request Form.
Exercise II.B Family Problem Resolution Worksheet.
SECTION III--Attention- Seeking Behavior.
Exercise III.A Family Job Support Checklist.
Exercise III.B My Love and Trust Support Network.
SECTION IV--Blended Family.
Exercise IV.A Healing Hurt Feelings.
Exercise IV.B Unique Roles in Our Blended Family.
SECTION V--Bonding/Attachment Issues.
Exercise V.A Steps to Responsible Behavior.
Exercise V.B The Behavior Progress Chart.
SECTION VI--Career Preparation.
Exercise VI.A Career Family Tree.
Exercise VI.B School- to- Career Diary.
SECTION VII--Character Development.
Exercise VII.A Division of Family Labor.
Exercise VII.B Sharing the Family Resources.
SECTION VIII--Children with Physical Challenges.
Exercise VIII.A Strategies for Supporting Our Child with Physical Challenges.
Exercise VIII.B Working Together to Create a Plan.
SECTION IX--Conduct Disorder/Delinquent Behavior.
Exercise IX.A Replacing Noncompliance with Compliance and Cooperation.
Exercise IX.B Using Privileges as Contingencies and Consequences.
SECTION X--Dependent Children/Overprotective Parent.
Exercise X.A Overprotective Parent versus Positive Parent.
Exercise X.B Creating and Cooperating with Family Rules.
SECTION XI--Depression.
Exercise XI.A Creating Positive Self- Talk.
Exercise XI.B Managing Positive and Negative Relationships.
SECTION XII--Divorce/Separation.
Exercise XII.A Divorce is Not My Fault.
Exercise XII.B Assuming Our Parental Responsibilities.
SECTION XIII--Eating Disorder.
Exercise XIII.A Beautiful on the Inside.
Exercise XIII.B Modeling Healthy Attitudes about Nutrition, Exercise, and Body Image.
SECTION XIV--Gifted/Talented.
Exercise XIV.A Teaching Responsibility.
Exercise XIV.B Procedures for Meals, Bedtime, and the Morning Routine.
SECTION XV--Grandparenting Strategies.
Exercise XV.A Parents' Rules versus Grandparents' Rules.
Exercise XV.B Personal Boundaries for Interaction with the Grandchildren.
SECTION XVI--Grief/Loss.
Exercise XVI.A Monitoring Our Reactions to Change and Loss.
Exercise XVI.B Grief and Loss Circle of Support.
SECTION XVII--Oppositional Defiant Disorder (ODD).
Exercise XVII.A Planning for Disruptive Behavior.
Exercise XVII.B Family- Approved Media List.
SECTION XVIII--Peer Relationships/Influences.
Exercise XVIII.A Social Influences in My Child's Life.
Exercise XVIII.B Peer Pressures, Values, and Influences.
SECTION XIX--Posttraumatic Stress Disorder (PTSD).
Exercise XIX.A Reframing Our Worries.
Exercise XIX.B Physical Receptors of Stress.
SECTION XX--Poverty- Related Issues.
Exercise XX.A Achieving Family Goals.
Exercise XX.B Different Rules for Home and School.
SECTION XXI--Prenatal Parenting Preparation.
Exercise XXI.A Creating a Family- Friendly Lifestyle.
Exercise XXI.B Bonding with Our Prenatal Baby.
SECTION XXII--School Adjustment Difficulties.
Exercise XXII.A Organizing for the School Day.
Exercise XXII.B My Ideal School Day.
SECTION XXIII--Sexual Responsibility.
Exercise XXIII.A Sexual Responsibility and Healthy Self- esteem.
Exercise XXIII.B My Personal Sexual Responsibility Code.
SECTION XXIV--Sibling Rivalry.
Exercise XXIV.A Affirming Each Child's Uniqueness.
SECTION XXV--Single Parenting.
Exercise XXV.A Stress Reduction Strategies.
SECTION XXVI--Spousal Role and Relationship Conflict.
Exercise XXVI.A State of Our Marriage Report.
Exercise XXVI.B Our Evolving Marriage and Spousal Roles.
SECTION XXVII--Strategies for Preschoolers (Ages Birth to 6).
Exercise XXVII.A Charting Our Child's Developmental Stages.
Exercise XXVII.B Helping My Child Develop Responsible Behavior.
SECTION XXVIII--Strategies for Children (Ages 7 to 12).
Exercise XXVIII.A The Rewind Game.
Exercise XXVIII.B Record of Reinforced Behavior.
Exercise XXVIII.C Problem-solving Worksheet.
SECTION XXIX--Strategies for Teenagers (Ages 13 to 18).
Exercise XXIX.A Listening with Empathy.
Exercise XXIX.B Earning Privileges and Freedoms.
SECTION XXX--Substance Abuse.
Exercise XXX.A Healthy Habits to Support Recovery.
Exercise XXX.B Our Commitment to a Substance- Free Lifestyle.
SECTION XXXI--Suicide Prevention.
Exercise XXXI.A Heart- to- Heart Smart Talks.
Appendix: Alternate Assignments for Presenting Problems.