Parents Do Make a Difference: How to Raise Kids with Solid Character, Strong Minds, and Caring Hearts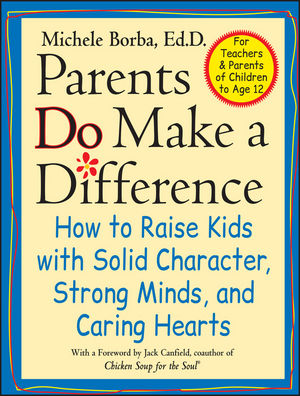 Parents Do Make a Difference: How to Raise Kids with Solid Character, Strong Minds, and Caring Hearts
ISBN: 978-0-787-94605-0
May 1999, Jossey-Bass
272 pages
Description
For Teachers and Parents of Children to Age 12

Finally, a book that shows you how to teach kids the eight indispensable skills-self-confidence, self-awareness, communication, problem solving, getting along, goal setting, perseverance, and empathy-they'll need for living confident, happy, and productive lives. Filled with step-by-step advice, practical ideas, and real-life examples, Parents Do Make a Difference puts field-tested tools into the hands of every parent and teacher who wants their children to succeed.

"The fact is this may well be the only book you'll ever need on raising great children."--from the Foreword by Jack Canfield, coauthor of Chicken Soup for the Soul
Buy Both and Save 25%!
Original Price:$38.90
Purchased together:$29.17
save $9.73
Cannot be combined with any other offers.
Foreword Jack Canfield.

Preface: You Do Make a Difference!

Acknowledgments.

Introduction.

Success Skill 1. Positive Self-Esteem: Developing an "I Can Attitude" and a Solid Belief in Self.

Success Skill 2. Cultivating Strengths: Developing Personal Potential and Enhancing Individuality.

Success Skill 3. Communicating: Learning How to Speak Up, Listen Attentively, and Reduce Misunderstandings.

Success Skill 4. Problem Solving: Knowing How to Find Solutions and Resolve Conflicts.

Success Skill 5. Getting Along: Learning How to Make Friends, Be a Friend, and Deal with Stormy Relationships.

Success Skill 6. Goal Setting: Targeting What You Want and Taking Action to Achieve It.

Success Skill 7. Not Giving Up: Encouraging Perseverance.

Success Skill 8. Caring: Increasing Compassion and Empathy.

Final Thoughts.

References.

Index.

About the Author.
"The fact is this may well be the only book you'll ever need on raising great children." (from the Foreword by Jack Canfield, coauthor of Chicken Soup for the Soul®)
"Packed with helpful suggestions and insights. This book is a wonderful guide to help kids become winners." (Louise Hart, author of The Winning Family: Increasing Self-Esteem in Your Children and Yourself and On the Wings of Self-Esteem)
"Parents Do Make a Difference makes a huge contribution to the well-being of children. It's positive, practical, and instantly usable. Kids across America will surely become more confident and self-reliant as a result of this wonderful book." (Naomi Drew, author of Learning the Skills of Peacemaking)
"Dr. Michele Borba's years of research and experience make her uniquely qualified as an expert in this field. The many practical and creative suggestions offered here are sound, effective ways of developing successful human beings. I'm certain that this outstanding book will become an extremely valuable guide and resource for both parents and teachers." (Robert W. Reasoner, president, International Council for Self-Esteem and retired school superintendent)
"Michele Borba's book is bursting with wise and practical ideas for helping kids develop the strengths of character-qualities like caring, self-discipline, and perseverance-that make us fully human." (Thomas Lickona, author of Educating for Character)
"Parents Do Make a Difference is a godsAnd for parents. Dr. Borba speaks clearly and authoritatively about the things that matter most to a child's success-not grades or test scores, but the ability to set goals, cooperate, and empathize with others, to be self-reliant and self-motivated, and above all, have high self-esteem." (Thomas Armstrong, author of Awakening Your Child's Natural Genius and In Their Own Way)
"Michele Borba's new book is invaluable. Drawing on a lifetime of rich experience, the author understands parents' concerns and speaks to them wisely and compassionately. Best of all, she spells out what parents need to know in easily accessible language and easily learnable stages." (Nathaniel Branden, author of The Six Pillars of Self-Esteem and A Woman's Self-Esteem)
"Parents Do Make a Difference is able to address the core issues of parenting. Cross-culturally, Dr. Michele Borba has brought valuable insights to teaching professionals. Her parenting ideas have also been widely adopted by parent educators in Hong Kong." (Ivan Yiu, assistant community services secretary for children & youth, Tung Wah Group of Hospitals, Hong Kong)
"Every child arrives in life with a birthright to healthy self-esteem and to be welcomed, nurtured, and inspired by parents who abide by the practices Michele Borba recommAnds in this book. Applying these principles would quickly help the world become a much healthier and happier place." (Senator John Vasconcellos, 13th District, California State Senate)
"Finally, a 'cookbook' for parents and educators on how to raise successful kids. My seminar attAndees have asked me for years, 'Wouldn't it be terrific if children could be exposed to these principles of self-esteem?' Michele, you've done it. The world needs your recipes for success-what a difference they'll make in our kids' futures!" (Bob Moawad, chairman/CEO, Edge Learning Institute, and past president, National Association for Self-Esteem)
"Michele Borba has done it again - she's written another must-have, must-read book! Parents of grown children will ask, 'Why didn't they have this when my kids were younger?' and then buy it for their grown kids so the grandkids will be raised sensibly. I highly recommAnd this book to anyone who cares about kids." (Hanoch McCarty, coeditor of A 4th Course of Chicken Soup for the Soul® and coauthor of Acts of Kindness)
"This book is loaded with practical, proven ideas for teachers and parents to use in their efforts to be the best influence they can be. Children of all ages will be helped to develop skills they need to be their personal best in the new millennium." (Dorothy Rouse, board member and former teacher, Los Gatos Union School District Los Gatos, California)
"By applying the strategies from Parents Do Make A Difference I experienced such stunning success with a severely disturbed foster child that it caused an astonished juvenile court judge to label her transformation "miraculous." He even lead his courtroom in a round of applause for her success and credited her rehabilitation to Dr. Borba's techniques. One could only imagine how using these techniques could profoundly impact the lives of all children." (Dawn Hamill, foster child advocate)
"As one who works with foster children, I consistently look to Michele Borba for her expertise, insightful guidance, and sound advice. I personally have seen miracles occur in the lives of foster children who have been touched by the skills detailed in Parents Do Make A Difference. Because of this book, foster children's lives are being changed - more importantly, their lives are being saved." (Madelene Hunter, recipient of the California Foster Parent's Association's President's Award; founder, Madelene Hunter Foundation Serving Foster Children, San Diego)
"I strong Andorse Michele Borba's new book, Parents Do Make a Difference. Grounded in solid research, her message has the potential to truly help parents help their children be more successful in school and in life." (Richard Herzberg, executive director, Bureau of Education & Research)