Parkinson's Disease For Dummies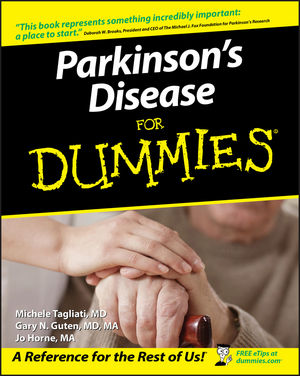 Parkinson's Disease For Dummies
ISBN: 978-1-118-05104-7 March 2011 384 Pages
Description
If you or someone you love has been diagnosed with Parkinson's Disease you're probably wrestling with fear, despair, and countless questions about the future. It's brighter than you think. In Parkinson's Disease for Dummies, you'll discover how to keep a positive attitude and lead an active, productive life as this user-friendly, guide pilots you through the important steps toward taking charge of your condition. It helps you:
Make sure you have an accurate diagnosis
Assemble and work with your health care team
Inform others about your condition
Choose the most effective medications
Establish a diet and exercise regimen
Consider surgical options, alternative therapies, and clinical trials
Maintain healthy personal and professional relationships
Adjust your routine as your PD progresses
This one-stop resource provides proven coping skills, first-hand advice, and practical tools, such as worksheets to assess care options, questions to ask doctors, and current listings of care providers.
Foreword.
Introduction.
PART I: UNDERSTANDING PD.
Chapter 1. Parkinson's Disease: The Big Picture.
Chapter 2. Considering Possible Causes and Risk Factors.
Chapter 3. Sizing Up Symptoms, Signs, and Stages.
PART II: MAKING PD PART — BUT NOT ALL — OF YOUR LIFE.
Chapter 4. Getting an Accurate Diagnosis.
Chapter 5. You've Been Diagnosed - Now What?
Chapter 6. Drafting Your Healthcare team and a Game Plan.
Chapter 7. Choosing How and When to Share Your News.
Chapter 8. Special Advice for Those with Young Onset Parkinson's Disease.
PART III: CRAFTING A TREATMENT PLAN JUST FOR YOU.
Chapter 9. Managing PD Symptoms with Prescription Medicines.
Chapter 10. When Surgery Is an Option.
Chapter 11. Considering Complementary and Alternative Medicine Therapies.
Chapter 12. The Key Roles of Diet and Exercise.
Chapter 13. Combating Anxiety and Depression.
Chapter 14. Clinical Trials and Y our Role in the Search for a Cure.
PART IV: LIVING WELL WITH PD.
Chapter 15. Maintaining Healthy Relationships.
Chapter 16. PD in the Workplace.
Chapter 17. Adjusting Your Routine as Your PD Progresses.
PART V: COPING WITH ADVANCED PD.
Chapter 18. Facing the Progression of PD Symptoms.
Chapter 19. When Care Partners Become Caregivers.
Chapter 20. Putting Your Financial and Legal House in Order.
Chapter 21. It's Just Bricks and Mortar: Housing Options You Can Live With.
PART VI: THE PART OF TENS.
Chapter 22. Ten Ways to Deal With Difficult Feelings.
Chapter 23. Ten Ways to Care for Your Care Partner.
Chapter 24. Michael J. Fox, Muhammad Ali, and YOU: Ten Ways to Make a Real Difference.
PART VII: APPENDIXES.
Appendix A. Glossary.
Appendix B. Additional Resources.
Index.