Parlay / OSA: From Standards to Reality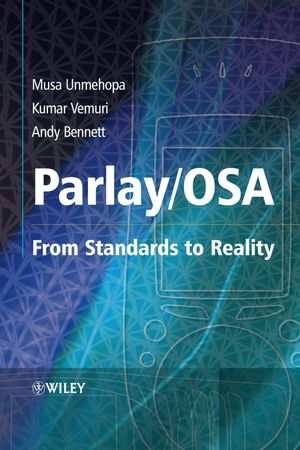 Parlay / OSA: From Standards to Reality
ISBN: 978-0-470-02823-0 August 2006 322 Pages
Description
Parlay will enable rapid and cost-effective delivery of services based on telecommunications networks, and will be an essential part of the 3G future.
We live in an exciting time. 3G networks are taking off, and as greater bandwidth and communication speeds become available, people are seeking new means by which to increase their interaction potential. Newer and more exciting services are being developed to drive more revenues and to enhance end-user experiences. New technologies are being designed and implemented to supplement and leverage the new capabilities being built into core networks.
Parlay/OSA: From Standards to Reality is an accessible primer on network ecosystems and operations today, discussing the need for Parlay, the details of standards, aspects of network evolution and support for legacy systems, and advanced topics from an implementation perspective.  The authors examine the potential of the Parlay/OSA (Open Service Access) solution from a number of points of view: business need, service development and service deployment. 
Parlay/OSA: From Standards to Reality:
Provides a comprehensive account and examination of the Parlay technology.
Covers standards capabilities and directions, and the twelve Service Capability Features, including call control, mobility management, data session control, generic messaging service and content based charging and policy management.
Addresses architectural alternatives and advanced architecture patterns.
Provides use cases, architecture, deployment scenarios and advanced topics for further reading.
This invaluable resource will provide product managers, software developers, application developers, network architects and engineers, as well as advanced students and researchers in academia and industry with an in-depth understanding of Parlay.
Trademarks and Permissions.
Dedication.
About the Authors.
Foreword.
A Note to the Reader.
Acknowledgements.
End-user Scenarios.
Scenario 1: The Operator's Perspective.
Scenario 2: The Application Developer's Perspective.
Scenario 3: End-user Perspective.
Scenario 4: Yet more perspectives.
News Flash (Sometime During 2003–2004).
Scenario 5: The Future.
Part I   Background and Introduction.
1    The Internet is Calling – Today's Network Ecosystems and Their Evolution.
2    The Need for New Technologies.
3    Follow the Yellow Brick Road.
4    Parlay and OSA.
5    The Parlay Conceptual Architecture.
Part II The Standards In Detail.
6    Standards Capabilities and Directions.
7    Standards Capabilities and Directions II – Scenarios and Details.
8    Standards Capabilities and Directions III – The Lay of the Land.
Part III Building a Service Mediation Gateway.
9    Alternative Architectures.
10      Considerations for Building 'Carrier-Grade' Systems.
Part IV  Realizing Parlay.
11  Deploying Parlay Gateways.
12  Parlay and Legacy Systems – Handling Feature Interactions
13  Application Implementation Perspectives.
Part V  Advanced Topics and their Implementation.
14  The Parlay Proxy Manager (*).
15  Multi-Network Deployment Scenarios.
16  Parlay/OSA and XML-based Technologies.
Bibliography.
List of Abbreviations and Acronyms.
References.
Index.