Parliamo italiano!: A Communicative Approach, 4th Edition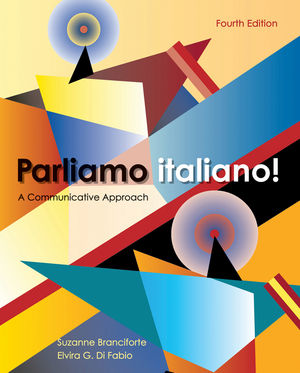 Parliamo italiano!: A Communicative Approach, 4th Edition
ISBN: 978-0-470-52677-4
Dec 2010
600 pages
Product not available for purchase
Description
This communicative, culture-based introductory Italian text develops all five language skills by pairing cultural themes with essential grammar points and by organizing units around situations, functions, and regions of Italy. The authors' belief that language is culture and culture is language is best illustrated by the text's up-to-date, fresh image of Italy and Italians and by the successful integration of this philosophy as an active, key part of the learning experience.
Parliamo italiano!, 4e brings Italy into the classroom, immersing the reader in the geography, customs, daily routines, literature, music and general culture of Italy, while providing a strong basis for development of basic language skills - reading, writing, speaking, listening and cultural competency.
To the Student.
An Overview of Your Textbook's Main Features.
For the Student.
Acknowledgments. Unità Preliminare: Per cominciare.
Unità 1. Visitare: Siamo a Roma!
Unità 2. Studiare: Impariamo l'italiano!
Unità 3. Abitare: Andiamo a casa mia!
Unità 4. Comprare: Facciamo delle commissioni!
Unità 5. Mangiare: Tutti a tavola!
Unità 6. Rilassarsi: Cosa facciamo di bello?
Unità 7. Vestirsi: Vestiamoci alla moda!
Unità 8. Lavorare: Lavoriamo insieme!
Unità 9. Viaggiare: Andiamo in vacanza!
Unità 10. Divertirsi: Usciamo stasera!
Unità 11. Leggere: Recitiamo una poesia!
Unità 12. Sognare: Immaginiamo il futuro!
Appendices.
A Essere e avere.
B Verbi regolari.
C Verbi coniugati con essere.
D Verbi con participio passato irregolare.
E Verbi irregolari.
Vocabolario italiano-inglese.
Vocabolario inglese-italiano.
Index.
Index to Lo sapevi che...?
cultural notes.
Credits.
The book has been completely redesigned, with all new photos, four-color art, and many new pieces of realia.
A new video with a distinctive story line—filmed on location in Rome, Orvieto, Florence, and Portovenere (La Spezia), and integrated with each unit's thematic and geographical emphasis, grammar, and vocabulary—complements Parliamo italiano!, 4e.
Grammar presentations have been carefully reviewed and fine-tuned for enhanced linguistic effectiveness and ease of use. A few of the annotations for the instructor now indicate possible sections for passive knowledge on the part of the students. The related Incontro conversations and language samples have been updated and, when appropriate, streamlined, to best reflect the contemporary Italian usage in authentic contexts.
Many of the Lo sapevi che…? cultural notes are new or have been updated and expanded to integrate more "high" culture as well as rich information about all facets of Italian life.
The magazine-style Immagini e parole section that is the capstone of each unit has been substantially rethought and expanded:

A number of the cultural and realia-based readings have been replaced or significantly revised.
There is now a reading strategy, Leggiamo italiano!, with related practice, as well as a writing strategy, Scriviamo italiano!, in each unit's Immagini e parole section.
A new section, Come disse …, provides a brief, thematically appropriate literary reading in every Immagini e parole section. Students are introduced to major Italian writers and experience the language in yet another authentic context.
Another new section, Musica, maestro!, directs students to listen to an Italian song relevant to the unit and helps to orient them to what they are hearing, while familiarizing them with well-known musicians and composers.
Ciak! Italia is a new section that provides pre-viewing, viewing, and post-viewing activities related to each unit's video module.
Uses a five-skills approach to teaching and assessing language: reading, writing, speaking, listening, and cultural competency.

Implements a contextualized approach that imparts worlds of information about the language and culture of Italy and asks the reader to be a part of the culture they are studying.

While practicing grammatical constructions or learning vocabulary, students are immersed in Italian culture through geography, music, literature, customs and daily routines.

Themes of Italian culture are strategically paired with essential points of grammar and units are organized around situations, functions, and regions, reflecting the text's communicative stance and its culture-centered approach to the teaching of Italian.

Activities that encourage student participation are a basic ingredient of the text.

Each unit contains an Incontro section that emulates a real-life situation and utilizes the vocabulary, grammatical constructions, and idioms discussed in the unit while concentrating on the essence of language learning: communication.