Parties and Democracy: Party Structure and Party Performance in Old and New Democracies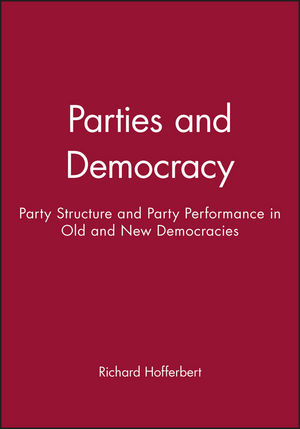 Parties and Democracy: Party Structure and Party Performance in Old and New Democracies
ISBN: 978-0-631-20930-0 July 1999 Wiley-Blackwell 240 Pages
Description
This book is a comprehensive examination of the changing significance of party organisation in established and emergent democracies.
1. Party Structure and Party Performance in Old and New Democracies: Richard I. Hofferbert (State University of New York).
2. Party Formation and Party System Consolidation in New European Democracies: David M. Olson (University of North Carolina).
3. The Post-Communist Transition and Institutionalisation of Lithuania's Parties: Algis Krupavicius (The Kaunas University of Technology).
4. Consolidation and Stabilization of the Party System in the Czech Republic: Michal Klima (University of Economics - Prague).
5. Who Survives? Party Origins, Organizational Development, and Electoral Performance in Post-Communist Russia: Grigorii Golosov (European University at St. Petersburg).
6. The Turkish Party System in Transition: Party Performance and Agenda Change: Ali Çarkoglu (Bogazici University).
7.Parties Party Systems, and Satisfaction with Democratic Performance in the New Europe: Christopher J. Anderson (State University of New York - Binghamton).
8. Party Appeals and Voter Loyalty in New Democracies: Gbór Tóka (Central European University, Budapest).
9. Effects of Party Organization on Performance during the 'Golden Age' of Parties: Kenneth Janda and Tyler Colman (Northwestern University).
10. Party Families and Democratic Performance: Extraparliamentary versus Parliamentary Group Power: Rachel Gibson (University of Salford) and Robert Harmel (Texas A & M University).
11. Institutional Arrangements and the Success of New Parties in Old Democracies: Joseph Willey (State University of New York - Binghamton).
Unique geographical range of coverage
Exceptionally distinguished list of contributors
Path breaking analyses of party in the new democracies of Europe.