Partnering With the CIO: The Future of IT Sales Seen Through the Eyes of Key Decision Makers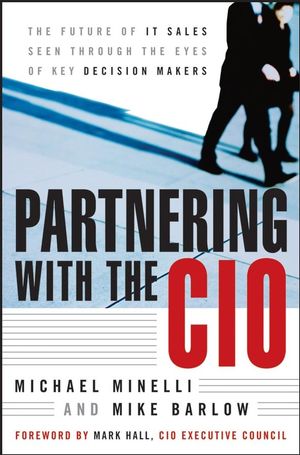 Partnering With the CIO: The Future of IT Sales Seen Through the Eyes of Key Decision Makers
ISBN: 978-0-470-17513-2 November 2007 512 Pages
Description
CIOs spend more than $1.2 trillion on software and hardware each year. Partnering with the CIO looks at IT sales from the CIO's perspective, revealing what needs to be changed and expressing their fears, concerns, warnings, and advice. Based on in-depth interviews with CIOs at major international firms and organizations such as Citigroup, First Data Corp., Priceline.com, Pitney Bowes, PricewaterhouseCoopers, Time Inc., World Wildlife Fund, Accenture, and the CIO Executive Council, among many others, Partnering with the CIO is a practical and much-needed guide to the current state of IT sales and leadership.
Foreword xi
Acknowledgments xvii
Introduction 1
Chapter one The Once and Future CIO 15
Chapter two IT Is a Business 33
Chapter three Delivery 63
Chapter four If You Aren't a Partner, Then You're a Commodity 83
Chapter five Communication Is Crucial 109
Chapter six IT Governance 131
Chapter seven When the CIO Wears the Sales Hat 147
Chapter eight Inside the Mind of a CIO 171
Recommended Reading 181
About the Authors 183
Index 185
""The authors demonstrate a deep understanding of both the challenges facing CIOs who make tough investment decisions every day and of the opportunities for IT vendors who understand both sides of the equation. This book should be read by everyone involved in buying or selling IT resources.""
-- Ellen Kitzis, Vice President of Research, Gartner Inc., and coauthor of The New CIO Leader
""Partnering with the CIO is filled with practical insight from a 'Who's Who' list of CIOs. It's a must-read for IT vendor management and their sales forces.""-- Gary Beach, Publisher, CIO magazine
""Finally, a book about IT sales written from the customer's viewpoint. This book makes the case for adopting customer-centric sales and marketing strategies in the enterprise software industry."" -- Don Peppers and Martha Rogers, PhD, cofounders of the Peppers & Rogers Group and coauthors of The One to One Future, Enterprise One to One, and Return on Customer
""Vendors still don't get the CIO animal. They are buried with vague, impersonal, and untargeted pitches on a daily basis from providers who don't understand their business, their industry, and what really makes them tick. Read this book and you will separate yourself and your company from the pack.""-- David C. Munn, President & CEO, The Information Technology Services Marketing Association