Partners in Advancing Student Learning: Degree Qualifications Profile and Tuning: New Directions for Institutional Research, Number 165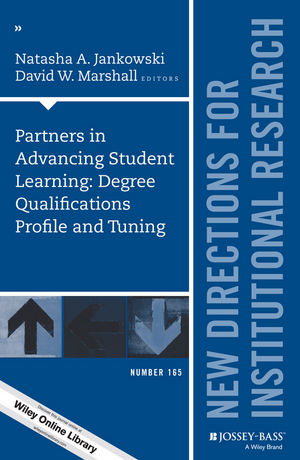 Partners in Advancing Student Learning: Degree Qualifications Profile and Tuning: New Directions for Institutional Research, Number 165
ISBN: 978-1-119-24065-5 December 2015 Jossey-Bass 104 Pages
Description
Focused on improving student learning, the Degree Qualifications Profile (DQP) and related Tuning process work together to inform curricular design, classroom assignments, and approaches to assessment. Covering the current field and drawing on numerous examples to illustrate the implications and challenges for IR professionals, this volume provides:
an overview of the work,
discussions outlining what the DQP and Tuning are,
how IR has been involved, and
what the future might hold for IR in these efforts.
This is the 165th volume of this Jossey-Bass quarterly report series. Timely and comprehensive, New Directions for Institutional Research provides planners and administrators in all types of academic institutions with guidelines in such areas as resource coordination, information analysis, program evaluation, and institutional management.
EDITORS' NOTES 1
Natasha A. Jankowski, David W. Marshall
1. Degree Qualifications Profile (DQP) and Tuning: What Are They and Why Do They Matter? 3
Natasha A. Jankowski, David W. Marshall
In this introductory essay, Jankowski and Marshall offer a general overview of both the Degree Qualifications Profile and Tuning and explicate elements of work with both that are of particular relevance to offices of institutional research (IR). They also consider the potential benefits institutions can garner by engaging with the DQP and Tuning.
2. The Role of Institutional Research in Institutional Engagement with DQP and Tuning 15
Natasha A. Jankowski, Jillian Kinzie
Jankowski and Kinzie survey different ways in which IR has been involved with initiatives that undertake the DQP and Tuning to address concerns with student learning and/or program effectiveness. The essay focuses on different roles that IR might assume to participate in initiatives and includes some reflection on the types of roles that IR has yet to take on.
3. Testing the DQP: What Was Learned About Learning Outcomes? 27
Jessica L. Ickes, Daniel R. Flowers
The first of three case studies, this essay describes work by St. Mary's College (Notre Dame, Indiana) to use the DQP as a point of comparison for learning outcomes in both general education and departmental programs. Ickes and Flowers describe how the college's office of IR facilitated both this activity and a survey of student responses to the DQP's outcomes and then reflect on the key lessons learned.
4. IR's Role in Piloting an Assessment Model: Coordination, Consultation, and Compromise 43
Robert A. Sweatman
In this second case study, Sweatman describes the process in Illinois College's master of education program to revisit an assessment program in reference to the DQP. With attention to the project's particular emphasis on rubrics, Sweatman explains how IR worked with faculty, applied rubrics to measure student learning, and worked with results.
5. The DQP in Practice: A Framework of Dilemmas Facing Institutional Researchers in Community Colleges 61
Sandra Fulton Bath
Fulton Bath reflects on work done at Reynolds College that used a Tuning-type process with the DQP. The essay positions the DQP as a consensus framework and differentiates it from a variety of other frameworks before describing a "framework of dilemmas" (drawing on Windschitl's work on constructivism) that challenged Reynolds' office of IR as they worked with the DQP.
6. New Directions for IR, the DQP, and Tuning 77
Natasha A. Jankowski, David W. Marshall
In this concluding essay, Jankowski and Marshall describe the most recent work being done with the DQP and Tuning, as well as similar initiatives in the United States en route to discussing the implications for IR raised by the volume's case studies and these most recent examples. The essay concludes that shifts in data use on campuses may require shifts in how IR provides data and to whom.
INDEX 89