Partnership Marketing: How to Grow Your Business and Transform Your Brand Through Smart Collaboration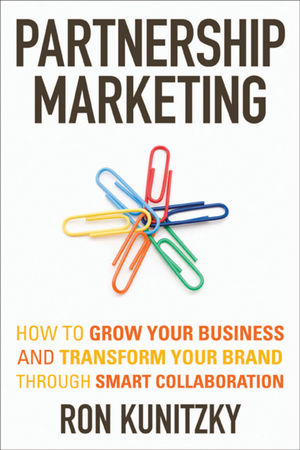 Partnership Marketing: How to Grow Your Business and Transform Your Brand Through Smart Collaboration
ISBN: 978-0-470-67871-8
Dec 2010
288 pages
Description
Google, Microsoft, Apple, Starbucks, and Wal-Mart are "category killers." Why? One key to their astounding success is that they have mastered the art of creating highly attractive partner and customer value propositions. They have all built their business on the principles and practices of Partnership Marketing to offer superior products, create long-term distribution opportunities, new revenue streams for their businesses, and increased brand awareness on a world-wide level.

Developing an affiliation with the right partner allows both parties to realize successes that they could not have otherwise achieved on their own by transforming their individual strengths into mutual performance. Whether you're an entrepreneur working to expand your customer base and increase value or a corporation looking for cost-effective ways to stimulate growth and brand-presence on a tight budget, Partnership Marketing is a practical in-depth guide to this core business concept.

A powerful strategy in good times, partnership marketing is an excellent way to gain competitive advantage and grow your business even in tough, recessionary economic conditions. As marketing resources are being slashed everywhere, coupled with employee lay-offs and cutbacks to existing programs, partnership marketing is a creative way to do more with less.

Partnership Marketing provides the complete how-to of collaborating successfully with other organizations, including: how to align PM objectives to your resources; how to assess what you have to offer a partner-brand and how to leverage your core strengths; how to search for the right partner-brand; how to assess the pros and cons of partnering with other brands; and much more.
Acknowledgments.
Preface.
Introduction: Welcome to the World of Partnership Marketing.
Marketing Partnerships Are Not Business Partnerships.
Marketing to Businesses Differs From Marketing To Consumers.
With B2B, the End Customer Uses a More 'Formal' Buying Process.
Partner Motivations Are Different.
How You Can Add Partnership Marketing To Your Existing Marketing Mix.
Direct Marketing.
Sales Promotion.
Advertising.
Branding.
Retail.
Chapter 1: U nderstanding Partnership Marketing.
Distribution Marketing Partnerships.
Bundling.
Cross-Marketing.
Added-Value Marketing Partnerships.
Affinity Marketing Programs.
Customized Affinity Programs.
Generic Affinity Programs.
Affiliate Marketing Networks.
Content Marketing Programs.
Sponsorship Marketing.
Licensing Programs.
Loyalty Marketing Programs.
Components of a Successful Loyalty Marketing Strategy.
Co-Marketing.
Store Within a Store and Co-Branded Stores.
Chapter 2: L everaging Partnership Marketing Assets.
Your Brand.
Audience and Customers.
Well-Defined Target Audience and Customers.
Regular Frequency of Interaction.
Volume or Size.
Marketing Vehicles.
Online and Digital Marketing Vehicles.
Traditional Marketing Vehicles.
Some Case Studies.
Meredith Corporation.
crowdSPRING.com.
Cocktail Marketing.
Chapter 3: U sing Partnership Marketing to Generate Revenue and Decrease Costs.
New Customer Acquisition.
Cost per Acquisition (CPA).
How to Track a Partnership Marketing Program.
How to Achieve Customer Growth While Reducing CPA.
Increasing Average Transactional Value (AT V) from Customers.
Increasing the Average Number of Transactions (ANT) from  Customers.
Chapter 4: E CP: Ec onomic Connection as Partners.
Economic.
Increase Revenue/Market Share Through an Increase in Customers.
Increase Mind Share Through Brand Awareness.
Increase Profitability Through Lower Customer Acquisition Costs.
Connection.
Partners.
Not Partner Friendly (Loner).
Somewhat Partner Friendly (What's In It for Me?)
Partner Friendly (What's In It for Us?)
What Does It Take to Achieve a Successful Economic Connection as Partners?
Joint Goal Planning.
Skills and Competencies.
Processes and Technology.
Potential to Generate Incremental Revenue.
Chapter 5: Associ ating Your Brand.
Customers—Strong Reach to the Primary Target Market.
Relevance to Your Business—Enhances Offering to the Primary Target Market.
Size of Opportunity.
Widely Recognized Brands.
Geography.
Mutuality and Cooperation.
Credentials and Trust.
Growth Potential.
Legalities and Channel Conflict.
To White Label or Not to White Label.
Some Case Studies.
Partner with Winners.
Choose a Partner Brand that Has a Market Share
Within Your Target Market.
Know the Viability of Your Partner Brand's Products.
Partner with an Emerging Channel.
Partner to Establish Credibility and Confidence.
Partner with Brands that Offer Products that Your Customers Want.
Distribution Versus the Partner—Sometimes We Can't Get Both!
Chapter 6: Putting Partnership Marketing into Play.
Partner-Friendly Brands.
Example.
What Does It Take to be Partner-Friendly?
Work with Able and Willing Partner Brands.
The 4 Ps to Successful Marketing Partnerships.
PLAN for Success.
PROFILE Your Brand.
PRODUCE Your Partner Brand Criteria 158
PREPARE Your Tools 159
Chapter 7: Practici ng Smart Collaboration.
Partner Referral Process.
Mapping the Partner Brand's Marketing Value Chain.
Connecting Your Offering to the Partner Brand's Marketing Value Chain.
Aligning with the Success Criteria of the Partner Brand.
Metrics.
Partnership Engagement Strategy.
Establishing the Partner Value Proposition.
Establishing the End Customer Value Proposition.

Leverage the Marketing Partnership.
Metrics.
Partner Collaboration Tools.
Training.
Understanding Your Partner Brand's Needs and Challenges.
Building a Partnership Marketing Program.
Maximizing Economic Outcomes.
What to Change in Order to Maximize Economic Outcomes.
Smart Collaboration from Other Viewpoints.
Integrated Marketing Services.
IGN Entertainment.
When It's Time to End a Marketing Partnership.
Chapter 8: Partnership Marketing—A Look to the Future.
A Shift to Digital in Partnership Marketing.
Associations Will Give More Value to Members and Partners.
More Competition in Retail.
Loyalty Programs Will Expand.
Greater Use of Online Contests and Sweepstakes.
Use of Geo-Targeting in Promotions.
Small Businesses will Partner with Large Corporations.
Product Placement will Expand.
Slideshare.
PocketCocktails.
An Emergence of Public-Private Partnerships.
Cause-Related Partnerships.
Glossary.
Index.