Passport to Exotic Real Estate : Buying U.S. And Foreign Property In Breath-Taking, Beautiful, Faraway Lands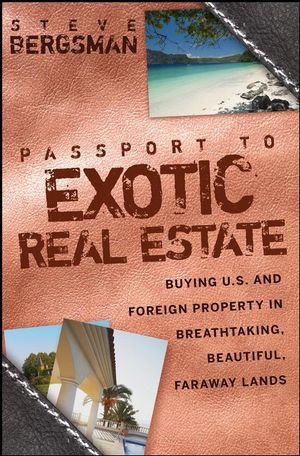 Passport to Exotic Real Estate : Buying U.S. And Foreign Property In Breath-Taking, Beautiful, Faraway Lands
ISBN: 978-0-470-37864-9 April 2009 256 Pages
Description
An exploration of acquiring real estate outside the continental U.S.

Given the costly uncertainties of the domestic real estate market, buying a second home in desirable vacation areas within the United States has become nearly impossible for many. Increasingly, Americans are turning to more affordable regions overseas, some stay close-by in Mexico or Canada, while others are more adventurous, looking to parts of Central America, the Caribbean, and Pacific Islands. In Passport to Exotic Real Estate, real estate expert and travel writer Steve Bergsman offers detailed advice on the benefits and challenges of buying overseas property, including whether or not foreigners can legally own property, tax implications, availability of beachfront land, market trends, investment security, local regulations, and much more. With this book as their guide, readers will be fully prepared to overcome the obstacles of overseas property ownership and discover the benefits of living/vacationing abroad.

Steve Bergsman (Mesa, Arizona) is a real estate, financial, and travel writer with more than 20 years' experience. His news stories and travel articles have been published in more than 100 publications around the world and he has appeared on local and national radio and television. Bergsman is also the author of two previous real estate books, Maverick Real Estate Financing (978-0-471-74587-7) and Maverick Real Estate Investing (978-0-471-46879-0).
Table of contents
Acknowledgments.
About the Author.
Introduction.
Chapter 1. American History: The Evolution and Migration of Second Home Investments.
Chapter 2. Hawaii: Condo Demand Ebbs and Flows Like Strong Ocean Tides; Southern California Real Estate Good Market Indicator.
Chapter 3. Alaska: The Beauty of Summer Here is Unequal to Anything Else; It's Not All Remote Cabins As Golf Homes and Ski Condos Attract Folks from Lower 48.
Chapter 4. Puerto Rico: Skyrocketing Housing Market Comes To Abrupt Halt; Bank Problems Mean More Scrutiny, Time In Mortgage Process.
Chapter 5. Virgin Islands: Popular Second Home Market for East Coast Investors; Crime Issues Worrisome but Certainly No Deterrent.
Chapter 6. Guam: Military Buildup Rolls Back Real Estate Depression; Take a Second Home Here and Travel to Asia and Other Pacific Islands.
Chapter 7. Saipan: The Last Real Estate Bargain under the Stars & Stripes; Federalization, Leasehold Law Liberalization May Be Needed to Save this Economy.
Chapter 8. American Samoa: Storied Tropical Paradise in the Heart of the South Pacific; Communal Property Ownership a Real Impediment to Development.
Chapter 9. Mexico: Reverse Migration as Americans Head South across the Border; Ownership Regulations Complicated but Trustworthy.
Chapter 10. Costa Rica: Salubrious Climate, Beautiful Topography Creates Countrywide Market; Lack of Regulation Means Buyer Beware.
Chapter 11. Panama: High-Rise Condominium Market in the Tropics; Cheap Living, Senior Discounts Attract Retirees
Chapter 12. Honduras: The Island of Roatan Boasts Caribbean Lifestyle; Investors Enjoy Full Ownership Rights to Beachfront Property.
Chapter 13. Dominican Republic: Punta Cana Second Home Market Hot, Hot, Hot; Prices Remain Moderate Except in Upscale Projects Like Cap Cana.
Chapter 14. Newfoundland: An Unlikely Canadian Success Story; Europeans Rediscover New World and Create a Second Home Market on Shores of Mountain Lakes.
Notes.