Password Card to access iProfile 3.0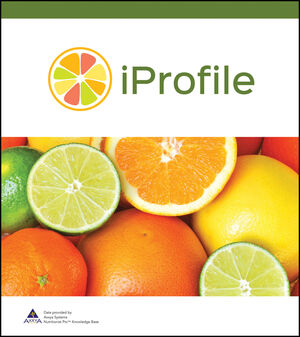 Password Card to access iProfile 3.0
ISBN: 978-1-118-42290-8
Sep 2012
1 pages
Description
The new version of iProfile Nutrition Dietary Assessment software features over 50,000 foods, including ethnic, cultural, and popular brand-name choices.  Completed updated to include current USDA and FDA information. Users can track intake, add foods, and calculate the impact of physical activity.  Serving size animations, a self-discovery survey, single-nutrient reports, menu planning and more make it a valuable tool.
Login to iProfile 3.0 below:
My DRI:  This report shows your Dietary Reference Intakes, as set by the USDA.  Where nutrients are listed, you will be offered a Basic and a Complete view.  The Basic view lists common nutrients, and the Complete view provides a more extensive list of nutri-ents, including all 12 amino acids.
Food Journal Summary:  Use the Food Journal Summary to review your intakes for a day or a period of time that you determine. You can view your intakes by the meal or by the day of the week. Learn more about the foods that you eat by scanning for sources of nutrients that you wish to limit or those you wish to enhance.
Intake Compared to DRI:  Use the Intake Compared to DRI to compare your average nutrient intake to your personalized goals. Recommendations are generated based on your own individual characteristics, such as weight and height, and Dietary Reference Intakes. Nutrients that you consume in excess are highlighted along with those that are below recommendations. This report shows a list of nu-trients, the DRI recommendation, and your intake for the period indicated in the calendars.  In addition, a graphic representa-tion of the percent of goal of your intake for each nutrient is shown. 
Macronutrient Distribution:  The Macronutrient Distribution is a bar graph that shows your intakes compared to your goals for kilocalories, total fat, car-bohydrate, and protein.  Your goal is determined by how your profile relates to the Acceptable Macronutrient Distribution Ranges (AMDR).
Intake Spreadsheet:  Use the Intake Spreadsheet to scroll through a detailed spreadsheet of the food and drink that you've consumed coupled with the nutrients contained in each item and an average nutrient intake for a range of days that you select. 
MyPlate:  Use the MyPlate report to evaluate your diet based upon food groups rather than nutrients. Compare the proportion of calories for each group to that recommended by the Dietary Guidelines for Americans. This report gives a graphic analysis of the food groups in MyPlate.  Intake is plotted on a bar graph for Grains, Vegetables, Fruits, Milk, Protein, Oils, and Empty Calories.  There's also a link to the myplate.gov web site.

Single Nutrient:  Use the single nutrient report to focus on a specific nutrient and discover its origins in your diet. Each food that you consume on a particular day or range of days is listed in the report, and a bar graph shows the amount of the single nutrient in each food.
Food Exchanges:  Use Food Exchanges to review your eating pattern using meal planning exchanges. Learn how your food choices are grouped as carbohydrate (starch, fruit, milk, vegetable, and other), meat & meat substitute (very lean, lean, medium-fat, and high fat), or fat (monounsaturated, polyunsaturated, and saturated). Developed by the American Diabetic Association, meal planning ex-changes help people manage carbohydrate, protein, and fat in their diets.  Exchange values are available for each category.
Activity Journal Summary:  Use the Activity Journal Summary to critique your energy expenditure for a day or as an average over a period of time. Learn how much energy you use for specific activities, such as walking or reading, expressed in calories or as Metabolic Equivalents (METs). Your activities will be listed with rate, duration and calories expended.
Energy Balance:  Use Energy Balance to see kilocalories consumed, kilocalories burned, net kilocalories.  A Caloric Summary is shown, indicat-ing Intake vs. Average Intake, Average Expenditure, and Average Net Gain/Loss.
*Each of the reports can be exported to a CSV file (comma separated values, readable in Excel) or printed.
Data Entry
Profile:You can create multiple profiles, change profile information, or delete profiles.  The Profile screen asks you to enter a name, date of birth, sex, height, weight, and activity level.  If you select Female, boxes for Pregnant or Lactating will appear.  The Profile also asks if you are a Smoker or Vegetarian. Body mass index is calculated, based on the data en-tered in the Profile.
Food Journal: An easy to use search engine that allows you to search for foods and enter them into your day as Breakfast, Lunch, Dinner or Snacks.  You can also select Favorite foods and Create New Foods.
Activity Journal: You can search for an activity and add it to your day by selecting the hours or minutes that you performed the activity.  The database includes common exercises as well as everyday activities such as walking to class, typing, or talking.
•   Available both online and on a multi-platform CD-ROM.
•   Includes many of the most popular food choices today, as well as ethnic and cultural choices.
•   To allow students to accurately track their individual diets and keep up with the ever changing food market, foods not included can be added to the database.
•   In addition to the ability to track and analyze diets and exercise, some distinctive features include serving size animations, a self-discovery survey, single nutrient reports, menu planning, and an easy-to-use design.