Patai's 1992 Guide to the Chemistry of Functional Groups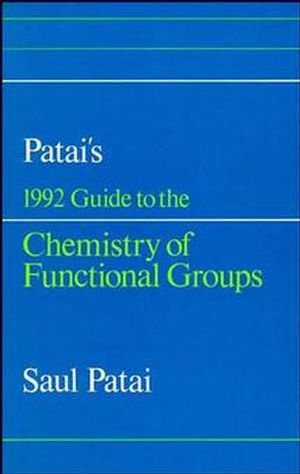 Patai's 1992 Guide to the Chemistry of Functional Groups
ISBN: 978-0-471-93022-8 April 1992 534 Pages
Description
Patai's 1992 Guide to the Chemistry of Functional Groups Saul Patai, The Hebrew University of Jerusalem, Israel Ever since the publication of the first volume of 'The Chemistry of Functional Groups' in 1964, the Patai series has acted as an essential reference source to many researchers. By the end of 1991, the series consisted of 50 titles bound in 73 volumes, containing nearly 900 chapters written by over 1250 authors. The aim of this Guide, as was that of the previous edition, is to present sufficient material on each of the published chapters to allow the researcher to decide whether these chapters are relevant and useful for his or her purpose, and thus worth pursuing in full. For those who are familiar with only selected volumes from the series, the cross-referencing between complementary and related chapters from different volumes will be invaluable. The Guide is fully indexed by both subject and author thus making it an essential reference tool for all organic chemists.
Table of contents
Partial table of contents:

Symbols Used.

The Chemistry of Amides (1970).

The Chemistry of Acyl Halides (1972).

The Chemistry of the Thiol Group (1974).

The Chemistry of the Carbon-Carbon Triple Bond (1978).

The Chemistry of Ketenes, Allenes and Related Compounds(1980).

The Chemistry of the Sulphonium Group (1981).

The Chemistry of Peroxides (1983).

The Chemistry of the Metal Carbon Bond, Volume 2--The Nature andCleavage of Metal Carbon Bonds (1985).

The Chemistry of Organic Silicon Compounds (1989).

The Chemistry of Enols (1990).

The Chemistry of Sulphonic Acids, Esters and Their Derivatives(1991).

Indexes.