Patent Searching: Tools & Techniques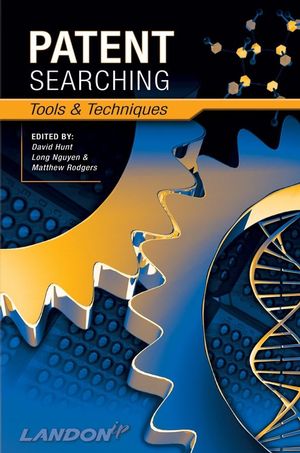 Patent Searching: Tools & Techniques
ISBN: 978-1-118-42925-9
Jun 2012
208 pages
Description
Whether you're a patent examiner, patent attorney, commercial patent searcher, patent liaison, IP librarian, law professor, or competitive intelligence analyst, you'll find Patent Searching: Tools and Techniques to be just the guide you have been waiting for, with a range of approaches to patent searching that will be useful to you regardless of your technical expertise or role in the intellectual property community.
About the Editors.
About Landon IP, Inc.
Acknowledgments.
Preface.
Chapter 1: Patent Law and Examination as Context for Patent Searching.
The U.S. Patent System.
Look before You Leap: Considerations before Filing.
Patent Examination Process.
Backlog of Patent Applications.
Chapter 2: Types of Patent Searches.
Patentability.
Validity.
Infringement.
Clearance.
State of the Art.
Patent Landscape.
Benefits of Prior Art Searching.
Chapter 3: The Mechanics of Searching.
Introduction.
Properly Scoping the Search.
Conducting the Search.
Issues Peculiar to Certain Technical Disciplines.
Estimating Search Time.
Chapter 4: Patent Analysis.
The Precursor to Patent Analysis.
Searches versus Analyses: What's the Difference?
Features of Patent Analyses and Reporting.
Sample Patent Analysis Report.
Chapter 5: Approaches to Reporting Search Results.
Purpose of the Search Report.
Anatomy of a Search Report.
Writing a Summary.
Presenting the Subject Matter.
Discussing References.
Writing Discussions.
Indicating Claims.
Prioritizing References.
Central References.
Peripheral References.
Central and Peripheral References.
Search History.
Classification Areas.
Databases Accessed.
Examiners Contacted.
Conclusion.
Chapter 6: Search Tools.
The Availability of Patent Information.
Criteria for Selecting Search Tools.
When to Select a Search Tool.
Data Sources for Chemical Searches.
Data Sources for Mechanical Searches.
Data Sources For Electrical/Computer Searches.
Data Sources for Business Methods Searches.
Methods of Access.
Text Search Syntax.
Discussion of Specific Search Tools.
Access to Nonpatent Literature.
Value-Added Capabilities of Search Tools.
Conclusion.
Index.
""The authors have made a creditable attempt at a difficult subject. Even the experienced searcher for whom much of the practice is ""instinctive"" will benefit from a careful consideration of this book."" (World Patent Journal, Sept 2007)