Patents, Copyrights and Trademarks For Dummies, 2nd Edition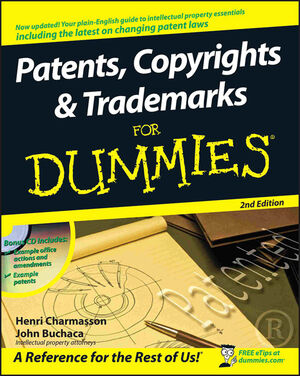 Patents, Copyrights and Trademarks For Dummies, 2nd Edition
ISBN: 978-0-470-50770-4
Mar 2009
384 pages
Description
Useful tips and step-by-step guidance from filing to issue to license
Acquire and protect your share of this major business asset
Want to secure and exploit the intellectual property rights due you or your company? This easy-to-follow guide shows you how — helping you to evaluate your idea's commercial potential, conduct patent and trademark searches, document the invention process, license your IP rights, and comply with international laws. Plus, you get detailed examples of each patent application type!
Discover how to:
Avoid application blunders

Register trademarks and copyrights

Meet patent requirements

Navigate complex legal issues

Protect your rights abroad
The entire body of U.S. patent laws

Example office actions and amendments

Sample forms

Trademark registration certificates

Application worksheets
See the CD appendix for details and complete system requirements.
Note: CD-ROM/DVD and other supplementary materials are not included as part of eBook file.
Introduction.
Part I: Corralling Your IP Assets: Intellectual Property Basics.
Chapter 1: Marshalling Your IP Tools.
Chapter 2: Fencing In the Herd.
Chapter 3: Calling in the Cavalry and Picking Up the Tab.
Chapter 4: Trade Secrets: Often-Overlooked IP Tools.
Part II: Going for the Gold: Patenting Your Product.
Chapter 5: Understanding Patents and How They Work.
Chapter 6: Testing the Patent Water Before You Dive in.
Chapter 7: Hoping It Ain't There: The Patent Search.
Chapter 8: Preparing Your Patent Application.
Chapter 9: Filing Your Patent Application.
Chapter 10: Wrestling with the Patent Examiner.
Chapter 11: Reeling In the Prize: Getting Your Patent Issued.
Part III: Asserting Your Copyrights.
Chapter 12: If It's Got Style, You've Got Copyrights.
Chapter 13: Untangling Ownership Issues.
Chapter 14: Giving Your Copyright Fangs.
Part IV: Protecting Your Commerical Identity.
Chapter 15: Flashing Your Badge.
Chapter 16: Coining the Next Household Name.
Chapter 17: Searching for Name Availability.
Chapter 18: Establishing and Registering Your Commercial Identifier.
Part V: Making Your IP Rights Work for You.
Chapter 19: All Abroad: Protecting Your IP Rights in Other Countries.
Chapter 20: Making 'Em Pay: Licensing Your IP Rights.
Chapter 21: Catching Them Rustlers (Infringers).
Part VI: The Part of Tens.
Chapter 22: Ten Most Common IP Misconceptions.
Chapter 23: Ten Patent Application Pitfalls.
Chapter 24: Ten Practical Copyright FAQs.
Chapter 25: The Ten Worst Naming Blunders.
Appendix: How to Use the CD-ROM.
Index.