Pathology of Pet and Aviary Birds, 2nd Edition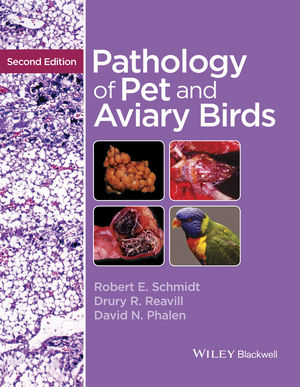 Pathology of Pet and Aviary Birds, 2nd Edition
ISBN: 978-1-118-82822-9 July 2015 Wiley-Blackwell 312 Pages
Description
Pathology of Pet and Aviary Birds, Second Edition provides a comprehensive reference to the gross and histologic features of diseases seen in pet and aviary birds, with more than 850 images depicting disease lesions.
• Provides a complete resource for identifying both common and not-so-common diseases in a wide range of avian species
• Includes more than 850 full-color images to show disease lesions
• Offers context for the interpretation of pathologic findings, promoting an understanding of the pathogenesis and epizootiology of disease
• Adds information on pigeons and chickens, pathophysiology, prognosis and trends, and globally relevant diseases
• Aids pathologists, diagnosticians, and avian veterinarians in identifying lesions in pet birds
About the Authors, vii
Preface to the First Edition, ix
Preface to the Second Edition, xi
Acknowledgments, xiii
1 Cardiovascular System, 1
2 Respiratory System, 21
3 Gastrointestinal System and Pancreas, 55
4 Liver, 95
5 Urinary System, 127
6 Reproductive System, 145
7 Endocrine System, 161
8 Lymphatic and Hematopoietic System, 175
9 Musculoskeletal System, 199
10 Nervous System, 221
11 Integument, 237
12 Special Sense Organs, 263
13 Peritoneum and Mesenteries, 281
Index, 291
Compared with the first edition, which was published 16 years ago, the second edition of Pathology of Pet and Aviary Birds has been substantially expanded to include information on chickens, pigeons, and a few wild birds. Perhaps the greatest improvement to this edition is the addition of many color figures including macrophotographs; photomicrographs of histologic, cytologic, and immunohistochemically stained specimens; and occasional electron micrographs of various pathological lesions.
The book is organized into 13 chapters, each devoted to a specific body system or organ. Each chapter begins with information regarding the normal gross and histologic anatomy of the system or organ being discussed, followed by descriptions of congenital anomalies and infectious and non-infectious diseases that affect that system or organ...
Overall...this is a good book that contains plenty of information supported by numerous figures. It will be a good reference for anyone interested in the pathology of pet and aviary birds.
(
Journal of the American Veterinary Medical Association, Dec 15th 2016)