Pathophysiology of the Enteric Nervous System: A Basis for Understanding Functional Diseases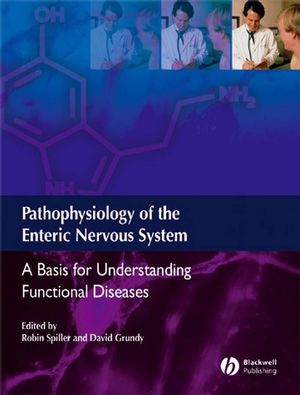 Pathophysiology of the Enteric Nervous System: A Basis for Understanding Functional Diseases
ISBN: 978-0-470-76003-1 April 2008 Wiley-Blackwell 272 Pages
Description
Over the last few years there have been huge advances made in our understanding of the interactions between the brain and the gut – the enteric nervous system. This book is particularly relevant in the understanding, diagnosis and management of irritable bowel syndrome – the most common functional disorder of the bowel.


IBS has been diagnosed in 10-20% of adults in the US, and symptoms of IBS are responsible for more than 3 million visits to the physician in the US.


This book is aimed at specialist gastroenterologists but also should be of interest for trainees and fellows in gastroenterology, as well as PCPs and GPs with an interest in this subject.
Contributors
Preface
Section A: Basic Principals
Chapter 1 Functional Neuro-anatomy
Chapter 2 Neuro-physiology
Chapter 3 Brain to Gut Signalling - Sensory mechanisms
Chapter 4 Brain to Gut Signalling - Central Processing
Section B: Mechanisms of functional GI Disorders
Chapter 5 Developmental disorders of the enteric nervous system
Chapter 6 Inflammation
Chapter 7 Stress and the Gut - Central Influences
Chapter 8 Stress and the Gut - Peripheral Effects
Section C: Patho-physiology and Treatment of Human Diseases
Chapter 9 Oesophageal disorders
Chapter 10 Gastric disorders
Chapter 11 Small Bowel Disorders
Chapter 12 Colonic disorders
Chapter 13 Anorectal Disorders
Chapter 14 Central Nervous System Injury
Chapter 15 Diarrhoea - Predominant bowel disorders following inflammation and infection
Section D: Advances in Pharmaco Therapy.
Chapter 16 Functional targets for pharmaco therapy – An overview
Chapter 17 Neuro Kininin Receptor Modulators
Chapter 18 Serotonin Receptor Modulators
Chapter 19 Emerging Transmitters
Index
Valuable guide for the healthcare team involved in the care of patients with functional GI disease


Offers the underlying basic science behind the diagnosis and management of clinical conditions such as irritable bowel syndrome and other GI motility disorders

Team of leading international experts in this field bring together neurogastroenterology and functional gastroenterological disease

Appeals to gastroenterologists, endoscopists, GI specialist nurses, counsellors, nutritionists, as well research scientists