Paths to Prayer: Finding Your Own Way to the Presence of God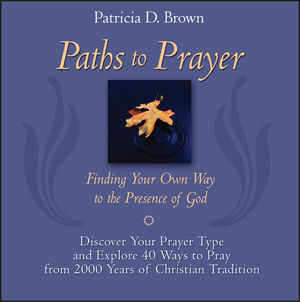 Paths to Prayer: Finding Your Own Way to the Presence of God
ISBN: 978-0-787-96565-5
Sep 2003, Jossey-Bass
352 pages
Description
With step-by-step instructions for over forty ways to pray, this valuable guide contains a wealth of timeless spiritual prayer practices that Christians have used over the last 2000 years from cultures around the world. Among the prayer practices you'll encounter in this book are the daily office, the prayer shawl, praying with icons, centering prayer, fasting, prayer beads, walking a labyrinth, pilgrimage, anointing for healing, and praying the scriptures.

Paths to Prayer offers a whole-person approach to prayer that takes into account each person's individuality and doesn't assume we all relate to God in the same way. A prayer styles self-assessment will help you reflect on your life, your preferences, and your unique way of interacting with the world. Try new dimensions of praying— innovative, searching, relational, and experiential— to deepen your encounter with the divine.
Introduction.
An Invitation to Prayer.
Foundations of Prayer: One Size Doesn't Fit All.
How Do You Pray? Finding Your Prayer Type.
Searching Prayer.
Lord's Prayer.
Praying the Scriptures.
Lectio Divina.
A Journal of Prayer.
Pilgrimage.
Praying with Icons.
Novenas.
Prayers for the Dead.
Experiential Prayer.
Fasting.
Abstinence from Food.
Fasting as Prayerful Solitude.
Breath Prayer.
The Jesus Prayer: Prayer of the Heart.
Benediction and Blessing.
Tallith: The Prayer Shawl.
Centering Prayer.
Meditation: Mental Prayer.
Anointing for Healing.
Relational Prayer.
Adoration Prayer.
Affirmation Prayer.
Prayers of Confession.
Prayer of Examen.
The Daily Office.
Tongsung Kido.
Prayer Walks.
An Emmaus Walk.
Stations of the Cross.
Innovative Prayer.
Praying with Our Bodies.
Palms Up, Palms Down Prayer.
Body Prayer.
Body Prayer with Music.
Prayer Labyrinth.
Home Prayer Altars.
Ignatian Prayer: Guided Imagination.
Prayer Beads.
Praying the Rosary.
Chaplet of Seven: Covenant Chaplet.
Praying with Mandalas.
Prayer Dance.
Dancing the Lord's Prayer.
Hava Nagila Circle Prayer Dance.
Dance of Jesus.
A Closing Benediction.
Suggested Lectionary Readings.
References.
Acknowledgments.
The Author.