Paths to Wealth Through Common Stocks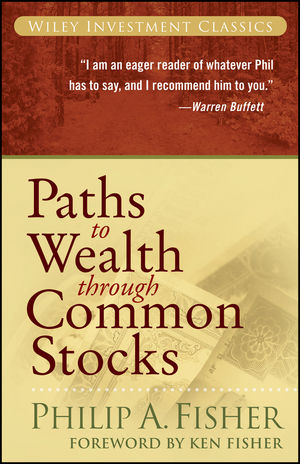 Paths to Wealth Through Common Stocks
ISBN: 978-0-470-17543-9
Oct 2007
256 pages
Description
Paths to Wealth through Common Stocks contains one original concept after another, each designed to greatly improve the results of those who self-manage their investments -- while helping those who rely on professional investment advice select the right advisor for their needs.

Originally written by investment legend Philip A. Fisher in 1960, this timeless classic is now reintroduced by his well-known and respected son, successful money manager Ken Fisher, in a new Foreword.

Filled with in-depth insights and expert advice, Paths to Wealth through Common Stocks expands upon the innovative ideas found in Fisher's highly regarded Common Stocks and Uncommon Profits -- summarizing how worthwhile profits have been and will continue to be made through common stock ownership, and revealing why his method can increase profits while reducing risk. Many of the ideas found here may depart from conventional investment wisdom, but the impressive results produced by these concepts -- which are still relevant in today's market environment -- will quickly remind you why Philip Fisher is considered one of the greatest investment minds of our time.
Foreword.
Preface. The Need for Additional Investment Books.
Part I. Adjusting to the Key Influences of the 1960's.
Stocks and Inflation; Institutional Buying; Foreign.
Competition; Increased Population; The Economists.
Go Out, the Psychologists Come In.
Part II. How the Greatest Increases in Stock Values Come About.
Alert Corporate Management; A New Concept.
The Role of Institutional Buying; A Reward
Usually Overlooked.
Part III. You and Where Your Investment Business Must Go.
Methods of Investment Evaluation; Five Steps for
Selecting the Right Investment Counselor.
Part IV. Trivia, but not Entirely.
What About Mergers? Voting Rights and Proxy.
Fights; Stocks and Election Prospects.
Part V. Major Growth Industries of the 1960's.
Chemical; Electronics; Drug; Others; The False.
Growth Industries of the Postwar Market; What
About Oils?
Index.