Patient Safety, 2nd Edition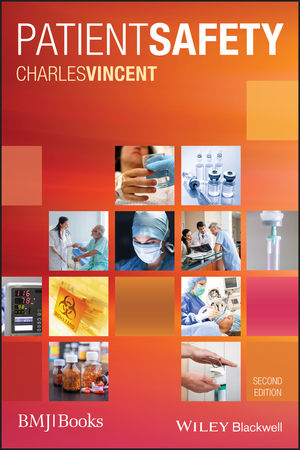 Patient Safety, 2nd Edition
ISBN: 978-1-444-34807-1
Jul 2011, BMJ Books
432 pages
Description
When you are ready to implement measures to improve patient safety, this is the book to consult. Charles Vincent, one of the world's pioneers in patient safety, discusses each and every aspect clearly and compellingly. He reviews the evidence of risks and harms to patients, and he provides practical guidance on implementing safer practices in health care.

The second edition puts greater emphasis on this practical side. Examples of team based initiatives show how patient safety can be improved by changing practices, both cultural and technological, throughout whole organisations. Not only does this benefit patients; it also impacts positively on health care delivery, with consequent savings in the economy.

Patient Safety has been praised as a gateway to understanding the subject. This second edition is more than that – it is a revelation of the pervading influence of health care errors, and a guide to how these can be overcome.

""... The beauty of this book is that it describes the complexity of patient safety in a simple coherent way and captures the breadth of issues that encompass this fascinating field.  The author provides numerous ways in which the reader can take this subject further with links to the international world of patient safety and evidence based research... One of the most difficult aspects of patient safety is that of implementation of safer practices and sustained change.  Charles Vincent, through this book, provides all who read it clear examples to help with these challenges"" From a review in Hospital Medicine by Dr Suzette Woodward, Director of Patient Safety.

Access 'Essentials of Patient Safety – Free Online Introduction': www.wiley.com/go/vincent/patientsafety/essentials
Preface.
The nature of the book.
Inspiration, acknowledgements and thanks.
SECTION ONE The Evolution of Patient Safety.
Chapter 1 Medical harm: a brief history.
Chapter 2 The emergence of patient safety.
Chapter 3 Integrating safety and quality.
SECTION TWO The Hazards of Healthcare.
Chapter 4 The nature and scale of error and harm.
Chapter 5 Reporting and learning systems.
Chapter 6 Measuring safety.
SECTION THREE From Accident Analysis to System Design.
Chapter 7 Human error and systems thinking.
Chapter 8 Understanding how things go wrong.
SECTION FOUR The Aftermath.
Chapter 9 Caring for patients harmed by treatment.
Chapter 10 Supporting staff after serious incidents.
SECTION FIVE Design, Technology and Standardization.
Chapter 11 Clinical interventions and process improvement.
Chapter 12 Design for patient safety.
Chapter 13 Using information technology to reduce error.
SECTION SIX People Create Safety.
Chapter 14 Creating a culture of safety.
Chapter 15 Patient involvement in patient safety.
Chapter 16 Procedures, violations and migrations.
Chapter 17 Safety skills.
Chapter 18 Teams create safety.
SECTION SEVEN The Journey to Safety.
Chapter 19 Safe organizations: bringing it all together.
Chapter 20 High performing healthcare systems.
Index.
"Therefore I believe that this book should be read by anyone involved in, or responsible for healthcare."  (Bulletin Royal College of Path, 1 July 2011)
"This is a superb book. I can strongly recommend it to all doctors, to medical students, to other clinical staff and to managers who have to try and make sense of the chaotic complexity of healthcare. The author's expertise is demonstrated throughout, and his examples are drawn from UK, American, European healthcare systems, with appropriate comparison across to other industries where they are useful."  (Dr. Nicholas P. G. Davies (Halifax, UK) posted January 1, 2011)
""This book is a tremendous asset in advancing the field of patient safety. The book is well-referenced and current and provides a comprehensive yet very readable summary of patient safety. It will serve well anyone who is involved in patient care. In describing this book, the words, ""expert"", ""indispensable"", and ""worthwhile"" come to mind. This is a significant update of the previous edition."" (Doody's, 7 October 2011)
 ""The sections on 'designing out' hospital acquired infection are helpful for infection control staff and architects. Prescribers and pharmacists benefit from seeing how IT can reduce medication errors"". (ENT & Audiology News, 1 July 2011)""This book is an outstanding comprehensive overview an summary of the key issues relating to patient safety, as one might hope and expect from one of the leading international experts and researchers in this field."" (Casebook, 1 May 2011)
""I would recommend this book to all occupational health professionals working in health care, particularly those who sit on clinical risk, infection prevention control or health and safety committees."" (Occupational Medicine, 4 June 2011)
""This book is highly recommended or anyone in health care with an interest in patient safety. Every practitioner will get something from it."" (The Association For Perioperative Practice, 1 March 2011)
""This book is directed to those involved in health care and patient safety. It can be used in the classroom setting to illustrate human error and correction methods to provide a safer patient experience. In the institutional setting, this text would be a useful addition to the medical library, as well as personal libraries of physicians, pharmacists, nurses, or other health-care providers interested in patient safety.""
(The Journal of Pharmacy Technology, 1 March 2011)""This book is essential reading for everyone in health care, but in particular it is a must read for those starting out, training to be the future doctors, nurses, managers and other health-care practitioners."" (British Journal of Hospital Medicine, 1 January 2011)