Patterns of Dissonance: A Study of Women and Contemporary Philosophy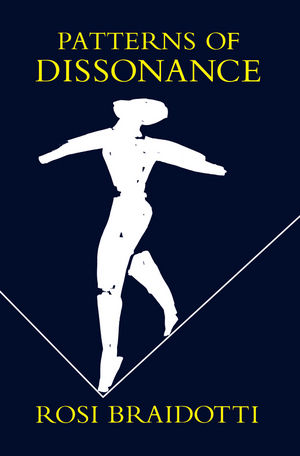 Patterns of Dissonance: A Study of Women and Contemporary Philosophy
ISBN: 978-0-745-66572-6 April 2013 Polity 326 Pages
Download Product Flyer
Download Product Flyer
Download Product Flyer is to download PDF in new tab. This is a dummy description. Download Product Flyer is to download PDF in new tab. This is a dummy description. Download Product Flyer is to download PDF in new tab. This is a dummy description. Download Product Flyer is to download PDF in new tab. This is a dummy description.
Description
This book is a brilliant and timely analysis of the complex issues raised by the relation between women and philosophy. It offers a critical account of a wide range of contemporary philosophical and feminist texts and it develops this account into an original project of critical feminist thought.
Braidotti examines contemporary French philosophy as practised by men such as Foucault and Derrida, showing that they rely on a notion of 'the feminine' in order to undermine classical thought, which bears no direct relevance to the historical experience of women.
Braidotti then looks at the attempts of contemporary feminist thinkers in Europe and the United States to show the gendered nature of discursive power games. She discusses the contributions of Luce Irigaray and many other feminist theorists to the understanding of sexual difference and of its implications for philosophy and politics. This book will be of interest to students and researchers in women's studies, feminist theory, social theory, cultural studies, philosophy and literature, and anyone interested in contemporary feminism and the relation between feminist theory, post-structuralism and psychoanalysis.
Table of contents
1. Images of the Void.
2. Desidero Ergo Sum:.
The Improbable Tete-&aacute-tete Between Philosophy and Psychoanalysis.
3. Un-Cartesian Routes: Foucault and Derrida.
4. Bodies, Texts and Powers.
5. The Becoming-Woman of Philosophy.
6. Towards a Philosophical Reading of Feminist Ideas.
7. Feminist Tactics in Philosophy, or:.
I Think Therefore He is.
8. Radical Philosophies of Sexual Difference, or:.
I Think Therefore She is.
Conclusion.
Reviews
'Braidotti's
tour de force
shows the immense theoretical impact of recent French and American feminist interventions in Western philosophy. It will transform the ways in which both pre-feminist and feminist thinkers evaluate feminist theory, Western philosophy, and, especially, feminist philosophy.'
Sandra Harding, University of Delaware
'This book is an invaluable source for anyone interested in the dialogue between feminism and post-structuralist philosophy, and an inspiring example of feminism unafraid. Highly recommended.' SWIP Newsletter
'Never less than challenging and provides a clear account of why post structuralism is seen by so many leading feminist critics as a resource and companion for feminist studies.' Times Higher Education Supplement
'All women in philosophy should read [this book] for ideas, inspiration, controversial assessment of our current situation and sheer intellectual vitality.' Journal of Gender Studies
'Lucid, rich and incisive analysis of the contribution of feminism to philosophy.' Sociology
'Highly recommended to women philosophers, and should be compulsory reading for all men philosophers.' The Philosophical Quarterly
Features
This major new book provides a very timely analysis of a range of issues at the forefront of contemporary feminist theory
The author has a very high reputation as a feminist scholar and she provides a wide-ranging and authoritative account of current developments in the field
This book will be widely reviewed and will no doubt be praised as a major contribution to feminist theory and contemporary social thought.