Patterns of Entrepreneurship Management, 4th Edition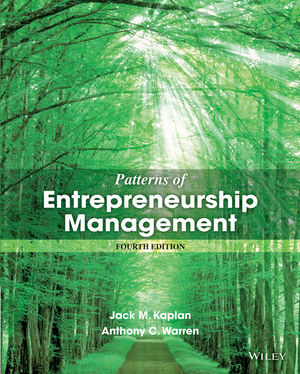 Patterns of Entrepreneurship Management, 4th Edition
ISBN: 978-1-118-54700-7
Sep 2012
400 pages
Product not available for purchase
Description
Patterns of Entrepreneurship Management is the essential road-map for anyone interested in starting a new business. The text is infused with the authors' experience teaching, writing, and launching successful ventures. 
In the Fourth Edition, the authors have incorporated the most up-to-date content, addressing the enormous changes in the investment climate, stunning new applications for social networks, and the evolution of new business models.  
With updated themes, cases and features, Patterns of Entrepreneurship Management 4th Edition supports a greatly enhanced interactive learning experience that addresses the challenges, issues and rewards faced by entrepreneurs starting, growing, and exiting a venture.
Preface vii
List of Cases and Profiles xv
PART ONE: GETTING STARTED AS AN ENTREPRENEUR 1
Chapter 1 The Entrepreneurial Process 3
Introduction 4
Profile: Wayne McVicker—A Typical Entrepreneur 4
An Entrepreneurial Perspective 5
Commonly Shared Entrepreneurial Characteristics 5
Types of Entrepreneurs 6
The Need to Control 8
The Spiderweb Model 10
Finding Early Mentors 10
Managing Stress 12
The Five-Stage Entrepreneurial Process 13
The Growth of Entrepreneurial Companies 16
The Growth Period 17
Entrepreneurship Roller Coaster 17
So Why Become an Entrepreneur? 18
Use the Master-Case to Develop Management Skills 18
Summary 19
Study Questions 19
Exercises 19
Interactive Learning on the Web 21
Additional Resources 21
Additional Cases for Reading 22
Endnotes 22
Chapter 2 The Art of Innovation 25
Introduction 25
Profile: Becky Minard and Paal Gisholt—Finding a Point of Pain 26
Why Innovation is Important 27
Definition and Types of Innovation 31
Frameworks for Learning Innovation Skills 34
Finding and Assessing Ideas 38
Converting an Idea into an Opportunity 40
Opportunity: Five Phases to Success 40
Summary 49
Study Questions 50
Exercises 50
Interactive Learning on the Web 51
Additional Resources 51
Endnotes 51
Chapter 3 Designing Business Models 55
Introduction 55
Profile: Neal Deangelo—Using Data Collection1 56
Definition of Business Models 57
Frameworks for Constructing Business Models 58
Capturing Value in the Supply Chain 60
Using Databases to Create Value 60
Locking- In Customers 62
Example: General Fasteners 62
Licensing and Franchising 63
Outsourcing Resources 68
Models Built around Social Networks 70
Corporate Partnering 71
Summary 72
Study Questions 72
Exercises 73
Interactive Learning on the Web 74
Additional Resources 74
Endnotes 74
Chapter 4 Analyzing the Market, Customers, and Competition 77
Introduction 78
Profile: Donn Rappaport—Marketing Visionary1 78
Conducting Marketing Research to Start the Venture 79
Mini-Case: BreatheSimple "Smokescreen" Market Research2 79
Formulating a Successful Marketing Plan 83
Defining the Market Segmentation 87
Conducting a Competitive Analysis 89
Positioning the Product or Service 90
Preparing the Pricing and Sales Strategy 91
Penetrating the Market and Setting Up Sales Channels 94
Summary 96
Study Questions 97
Exercises 98
Interactive Learning on the Web 99
Case Study: Smart Card LLC Marketing Plan 99
Appendix: Marketing Research Techniques 102
Additional Resources 104
Endnotes 104
Chapter 5 Writing the Winning Business Plan 107
Introduction 107
Profile: Nikolay Shkolnik—Business Plan Turns a Dream into Reality1 108
The Value of a Business Plan 109
Setting Goals and Objectives 110
Starting the Process to Write the Plan: Five Steps 111
Determining What Type of Business Plan Is Best 113
A Typical Business Plan Format and Content 114
Understanding Why Business Plans Fail 120
Summary 121
Study Questions 122
Exercises 122
Case Study: Surfparks LLC (Online) 123
Appendix: The Roadmap Guide for Writing A Business Plan 124
Interactive Learning on the Web 128
Additional Resources 128
Endnotes 128
Chapter 6 Setting Up the Company 131
Introduction 131
Profile: Ethan Wendle and Matt Chverchko—When to Convert from an S- to a C-Corporation 132
Identifying What Form of Ownership Is Best 133
Forms of Doing Business 133
Sole Proprietorship 133
C-Corporation 136
S-Corporation 142
Partnership 144
Limited Liability Company 146
Business Start-Up Checklist 147
Summary 151
Study Questions 152
Exercises 152
Interactive Learning on the Web 153
Endnotes 154
PART TWO: SPECIAL TOPICS: SOCIAL ENTREPRENEURSHIP TECHNOLOGY ENTREPRENEURSHIP 155
Chapter 7 Special Topic: Social Entrepreneurship 157
Introduction 158
Social Entrepreneurs and Green Initiatives 158
Profile: Khanjan Mehta—A Social Entrepreneur 159
To Profit or Not to Profit 159
Social Entrepreneurship and Tax Issues 160
Differences between Business and Social Entrepreneurs 161
Stakeholder Issues and Challenges 161
Growth and Management Challenges 162
Enhanced Revenue Opportunities 162
Social Entrepreneurship Business Models 163
Using the Inverse Commons to Build a Social Enterprise 169
Using Social Media to Grow 173
Appplying Other Chapters in this Book to Social Entrepreneurship 174
Summary 176
Study Questions 176
Exercises 177
Interactive Learning on the Web 177
Additional Resources 177
Endnotes 178
Chapter 8 Technology Entrepreneurship 181
Introduction 181
Profile: Ian Kibblewhite—An Integrated IP Strategy 183
Concepts Relevant to Technology-Based Companies 184
Intellectual Property Management 191
Summary 204
Internet IP Source Sites 205
Study Questions 206
Exercises 206
Interactive Learning on the Web 207
Additional Resources 207
Endnotes 208
PART THREE: FUNDING THE VENTURE 209
Chapter 9 Early-Stage Funding 211
Introduction 212
Profile: James Dyson—Bootstrapping out of Necessity 213
The Virtual Company—Mini-Case, Halare Inc. 216
Securing Early-Stage Funding 217
Self-Funding—Example, BenchPrep Inc. 218
Moonlighting and Part-Time Consulting 218
Bootstrapping Methods—Example, Injection Research Specialists 220
Family and Friends 221
Angels 222
Micro-Equity and Micro-Loans—A Little Money, a Lot of Help 223
Bank Loans, Factoring, and Supplier Lines of Credit 224
Managing Your Personal Credit Rating 226
Government Sources of Funding 226
How to Qualify 227
Summary 228
Study Questions 229
Exercises 229
Interactive Learning on the Web 230
Appendix: Start-Up Entrepreneurs and Business Incubators 230
Web Sites of Leading For-Profit Incubators 233
Additional Resources 233
Using University Outreach Programs 234
Endnotes 236
Chapter 10 Equity Financing 239
Introduction 240
Profile: Jason Cong, AutoESL Inc.—Super Angels, VC, and Corporate Investors 241
The State of the Venture Capital Industry 242
Super-Angels 243
Equity Investment Fundamentals 243
Using Private Equity for Fundraising 245
Understanding the Venture Capital Process 253
Guide to Selecting a Venture Capitalist 257
Private Placements and Crowdfunding 258
Home Runs or Singles? 259
Corporate Debt 260
Strategic Partnerships and Corporate Investments 262
How to Value a Business at the Early Stage 264
Summary 266
Study Questions 267
Exercises 267
Case Study: Coretek, Inc. 268
Interactive Learning on the Web 270
Addition al Resources 270
Appendix 1: Due Diligence Checklist (Online) 271
Appendix 2: Model Venture Capital Term Sheet—Series A Preferred Stock (Online) 271
Endnotes 271
PART FOUR: BUILDING AND EXITING 273
Chapter 11 Managing Resources—Money and People 275
Introduction 276
Profile: Paul Silvis—Conserving Cash While Building an Embracing Culture 276
Financial Statements 277
The Value of the Balance Sheet 277
The Value of an Income Statement 279
The Value of a Cash Flow Statement 280
Preparing Financial Projections 281
Preparing an Annual Budget 282
Preparing a Cash Flow Forecast 283
Preparing a Breakeven Analysis 285
Analyzing an Investment Decision 288
Taxes and Filing 289
The Stresses of Managing Money 290
Managing Human Resources—Introduction 290
Developing a Strong Corporate Culture 290
Finding and Hiring the Best People 292
Dealing with Firing an Employee 295
Dealing with a Resignation 296
Conflicts of Interest and Business Ethics 297
Legal Issues 299
Setting Up Stock-Option Agreements 300
Summary 301
Study Questions 301
Exercises 302
Interactive Learning on the Web 304
Additional Resources 304
Appendix: Legal Document Templates (Online) 304
Endnotes 304
Chapter 12 Communicating the Opportunity 307
Introduction 307
Profile: Craig Bandes—Matching Presentations to Investors 308
Locating Investors 309
Preparing a Teaser 311
The Elevator Pitch 315
Note on Confidentiality 316
After the Presentation 321
Summary 323
Study Questions 324
Exercises 324
Interactive Learning on the Web 324
Endnotes 324
Chapter 13 Exiting the Venture 327
Introduction 328
Profile: Alan Trefler—Private to Public Ownership 328
Why Create an Exit Strategy and Plan 329
Selling an Equity Stake to a Strategic Partner 329
Valuing a Later-Stage Company 330
Implementing the Plan of Action 333
Selling the Business 334
Preparing a Selling Memorandum 335
Merge with Another Business 341
Selling the Company to Its Managers, Employees, or Family Members 341
Using an Employee Stock Ownership Plan (ESOP) 341
Using a Management Buy-Out (MBO) 342
Passing on the Company to Family Members 343
Consider a Public Offering 345
Summary 351
Study Questions 352
Exercises 352
Interactive Learning on The Web 353
Additional Resources 353
Endnotes 354
Addendum: Three Case Studies Covering the Whole Book 355
Glossary of Terms 361
Index 367
New inclusion of social entrepreneurship, which has grown enormously since the publication of the 3rd Edition, provides clear frameworks for building such ventures.
New content on technology entrepreneurship, which supports the growing trend of engineering and entrepreneurship programs and addresses the unique needs of scientists and engineers looking to commercialize their inventions. 
New discussion of intergenerational problems in family owned businesses is presented in Chapter 13, Exiting the Venture.
Roadmap Approach: The book is divided into three "roadmap" phases of entrepreneurship, and begins each chapter with a list of "roadmap" actions that lay out the practical tasks students will accomplish in the chapter.
Focus on Real Entrepreneurs: Throughout the text, material is illustrated through real entrepreneurs, helping students understand how entrepreneurs position their companies to meet the various marketing, financial, and technological challenges.
Neoforma "Master-Case": The Neoforma case presents the company's history through the lens of Wayne McVicker, one of the company's founders, to provide a rich experience for students on the key management issues in entrepreneurship.
Case Studies: In addition to the Neoforma master case, most chapters include a shorter case that looks at a potential entrepreneurial opportunity and addresses important aspects of business, such as setting up the management team, financing for early and growth ventures, and expanding ideas into viable business opportunities.