Paving the Way in Reading and Writing: Strategies and Activities to Support Struggling Students in Grades 6-12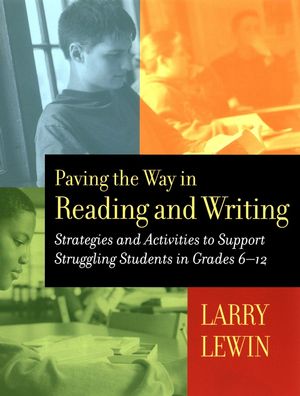 Paving the Way in Reading and Writing: Strategies and Activities to Support Struggling Students in Grades 6-12
ISBN: 978-0-787-96414-6 April 2003 Jossey-Bass 272 Pages
Description
Paving the Way in Reading and Writing offers secondaryteachers from across the content areas a structured approach formotivating reluctant and disengaged students to tackle difficultreading and writing assignments and thus boost their potential foracademic success. Drawing on relevant theory and research and theauthor's extensive experience as a teacher and teacher trainer, thebook presents an arsenal of practical instructional strategiesalong with teacher-tested tools, techniques, and activities forhelping students improve their comprehension of informational andliterary text as well as strengthen their written communications.Activities combining reading and writing tasks are emphasized alongwith graphic exercises for engaging the more visually orientedstudents. The book also provides guidance on using the computer asa literacy tool and on improving students' grammar, spelling, andresearch skills. In addition, it offers extensive listings ofweb-based instructional resources.
Cannot be combined with any other offers.
Original Price:$66.00
Purchased together:$49.50
save $16.50
Table of contents
Preface.

Teacher Acknowledgments.

About the Author.

ONE: Building the Twin Pillars of Literacy.

Improving Reading and Writing in Every Classroom.

Integrating Process and Visualization Approaches.

A Four-Part Instructional Framework.

Conclusion: Removing the Obstacles.

TWO: Developing the Reader's Confidence: Prepare and FirstDare.

A Structured Approach to Support Strategic Reading.

Schema Theory of Reading Comprehension.

Easily Implemented Classroom Activities.

Conclusion: It Takes a Village.

THREE: Moving to Richer Comprehension: Repair and Share.

Repairing Initial Understandings.

Easily Implemented Classroom Activities.

Sharing Understanding and Interpretation.

Conclusion: The Right of Return.

FOUR: Working with Literary Texts.

Prepare and First Dare Exercises.

Repairing Literary Understanding.

Sharing Understanding and Interpretation.

A Sample Lesson.

Conclusion: Setting Students Up for Success.

FIVE: Writing for Content Learning.

Instructional Framework.

Planning Assignments.

Basic Writing Activities: Talking Back with Memos.

Preparing Short Critiques: The Postcard.

Expository Exercises: The News Article.

The Informative Narrative.

Repaired Editing Activities: The Sentence Opening Sheet.

Conclusion: Making the Case for Writing.

SIX: Developing Advanced Writing Skills.

Synthesizing Content: Study Guide Activities.

Persuasive Writing: Letter Activities.

Expressing Ideas and Opinions: A Sample Lesson.

Other Traditional Writing Assignments.

Final Thoughts on Writing for the Share Stage.

Conclusion: Sharing Content Understanding.

SEVEN: Supporting the Task of Writing.

Managing Writing in the Classroom.

Making Use of Technical Tools.

Building Spelling and Grammar Skills.

Teaching Research Tactics.

Conclusion: Smoothing the Road.

Epilogue: The Work Ahead.

Appendix: Web-Based Instructional Resources.

Bibliography.

Index.