Pay Attention!: How to Listen, Respond, and Profit from Customer Feedback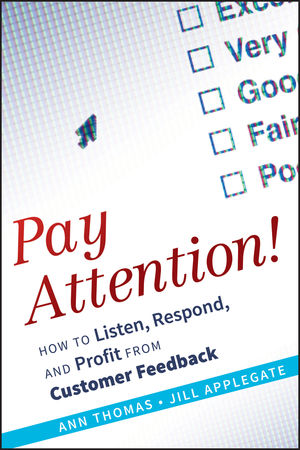 Pay Attention!: How to Listen, Respond, and Profit from Customer Feedback
ISBN: 978-0-470-56355-7
May 2010
224 pages
Description
Make customer feedback work for your business.
Customers are speaking loud and clear through a miriad of mediums. Evidence shows that customers will no longer stand for the hurried and complacent service that has become the norm. They are looking for a positive, memorable experience. Organizations that provide that level of service will earn their loyalty. Customers base their decisions on nothing more than a positive or negative review of your product and/or service.
Pay Attention! paves the way. Your company wins when you:
Understand Customer Expectations
Embrace and implement The RATER Factors
Define who you are and what you offer
Become E.T.D.B.W. (Easy To Do Business With)
Connect with your audience in all mediums
React appropriately and respond immediately to customer feedback
Recover sincerely when things go wrong
All you need is to Pay Attention!
Acknowledgments.
Introduction.
Chapter 1 Pay Attention to Today's Customers.
The Power of Online Megaphones.
A More Skeptical and Distrustful Customer.
What Does This All Mean for Your Own Customer Service Strategy?
Rising Global Service Expectations.
The Customer Experience Grid.
Speed as a Competitive Advantage.
E-Mail Versus Phone: Which Is Speedier?
More Educated Global Customers.
Five Building Blocks of Service Quality.
Reliability.
Assurance.
Tangibles.
Empathy.
Responsiveness.
Chapter 2 Pay Attention to Your Marketing Message.
Participating versus Observing.
Fundamentals Are Still Key.
Pay Attention to Who You Are.
Pay Attention to Who Your Audience Is.
The Power of Customer Stories.
Pay Attention to Engaging Your Customers.
Pay Attention to Walking Your Marketing Talk.
Chapter 3 Pay Attention to Preparation.
The Power of Vision and Purpose.
Theory to Action: Creating Standards and Norms.
Hiring Tactics: Select for Attitude, Train for Skill.
Modeling Star Performers.
Training and Coaching.
Internal Social Networks: Cost-Effective Learning Tools.
Pay Attention to What's Rewarded and Measured.
Chapter 4 Pay Attention to the Customer Experience.
Make It Personal.
Social Media Plays a Role at Comcast.
Taking Problems Seriously.
Be ETDBW: Easy to Do Business With.
Being ETDBW Means Considering All Audiences.
Payoffs of Being ETDBW.
Responsiveness and Reliability: Keys to the Customer Experience.
Chapter 5 Pay Attention to New Feedback Channels.
Eleven Ways to Listen to Customers.
Pay Attention to the Ways Customers Speak.
Evaluating Feedback.
Taking a Closer Look: Glossary of Terms.
Business Analytics Are Vital.
Managing the Moments of Truth.
Ten Action Steps.
Make Your Web Site ETDBW.
Weighing the Pros and Cons.
Chapter 6 Pay Attention to Your Reaction.
Ignore at Your Peril.
Tracking What They're Saying.
To Engage or Not to Engage?
Creating Integrated Response Systems.
Traditional Listening Posts.
Three Types of Listening.
Reacting to Product vs. Service Feedback.
Chapter 7 Pay Attention to Your Response.
All Eyes on You.
Creating Digital Embassies.
Dell Computer: Engaging via Social Media Is "Everyone's Job".
Rules of Engagement.
Responding to Customer Reviews.
Responding to Negative Reviews.
Responding to Positive Reviews.
Responding in Public versus Private.
Responding to Customer Suggestions and Ideas.
Customers Helping Other Customers.
Chapter 8 Pay Attention to Recovery.
The Dollar Impact of Service Breakdown.
An Implied Covenant.
What Is Service Recovery?
Five Axioms of Effective Service Recovery.
Axiom 1: Customers Have Recovery Expectations.
Axiom 2: Successful Recovery Is Psychological as Well as Physical: Fix the Person, Then the Problem.
Axiom 3: Work in a Spirit of Partnership.
Axiom 4: Customers React More Strongly to "Fairness" Failures Than to "Honest Mistakes".
Axiom 5: Effective Recovery Is a Planned Process.
Seeing Complaints as a Gift.
Fix the Process to Reduce Recovery Needs.
Service Recovery Process.
Acknowledge That the Customer Has Been Inconvenienced and Apologize for It.
Listen, Empathize, and Ask Open-Ended Questions.
Offer a Fair Fix to the Problem.
Offer Some Value-Added Atonement for the Inconvenience or Injury.
Keep Your Promises.
Follow-Up.
Key Service Recovery Skills.
Notes.
About the Authors.
Index.