Pay-Per-Click Search Engine Marketing: An Hour a Day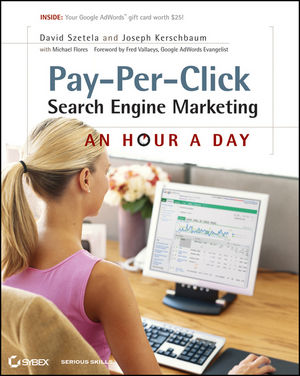 Pay-Per-Click Search Engine Marketing: An Hour a Day
ISBN: 978-0-470-48867-6
Aug 2010
432 pages
Description
The complete guide to a winning pay-per-click marketing campaign
Pay-per-click advertising-the "sponsored results" on search engine results pages-is increasingly being used to drive traffic to websites. Marketing and advertising professionals looking for a hands-on, task-based guide to every stage of creating and managing a winning PPC campaign will get the step-by-step instruction they need in this detailed guide.
Using the popular An Hour A Day format, this book helps you avoid the pitfalls and plan, develop, implement, manage, and monitor a PPC campaign that gets results.
Successful pay-per-click campaigns are a key component of online marketing
This guide breaks the project down into manageable tasks, valuable for the small-business owner as well as for marketing officers and consultants
Explains core PPC concepts, industry trends, and the mechanics that make a campaign work
Shows how to perform keyword research, structure campaigns, and understand campaign settings and various pricing models
Discusses how to write ads, develop and test landing pages, use ad groups, and leverage Google's content network
Covers launching a campaign, bidding for position, monitoring, gathering results, and interpreting and acting on the data collected
Pay-Per-Click Search Engine Marketing: An Hour a Day provides the tools to make the most of this important marketing method.
1 The Art and Science of PPC Advertising.
2 How the PPC Machine Works.
3 Core PPC Skills and Objectives.
4 Month 1 — Research Keywords and Establish Campaign Structure.
5 Month 2 — Create Great PPC Ads.
6 Month 3 — Design Effective Landing Pages.
7 Month 4 — Advertise on the Content Network.
8 Month 5 — Launch Your Campaign.
9 Month 6 — Optimize Your Campaign.
10 Month 7 — Test Ads Using Advanced Techniques.
11 Month 8 — Test and Optimize Landing Pages.
12 Month 9 — Migrate Your Campaign to Microsoft and Yahoo!