Pay Per Click Search Engine Marketing For Dummies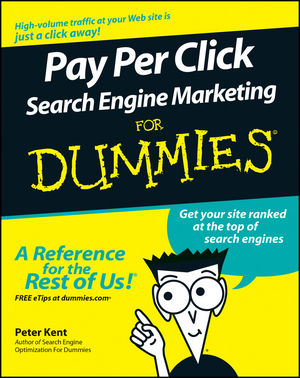 Pay Per Click Search Engine Marketing For Dummies
ISBN: 978-1-118-04392-9
Feb 2011
388 pages
Description
Plan and launch your PPC campaign and keep track of its progress
If you want potential customers to form a traffic jam at your Web site, Pay Per Click just might do the trick. This book will help you decide! It tells you all about Google AdWords and Yahoo! Sponsored Search, targeting your customers, watching out for fraud, assessing the pros and cons of Pay Per Click, and making Pay Per Click work for you.
Discover how to
Use the right keywords to trigger your ads
Figure your breakeven point
Write ads that reach your customers
Calculate return on investment
Use geo targeting
Track your ad results
Introduction.
Part I. Preparing for Your Campaign.
Chapter 1. Introducing Pay Per Click Advertising.
Chapter 2. The Different Forms of PPC.
Chapter 3. Calculating ROI (Return of Investment).
Chapter 4. Selecting Keywords.
Chapter 5. Creating Landing Pages.
Chapter 6. Finding the Right Words for Your Ad.
Chapter 7. Bidding on Keywords.
Part II. Using the PPC Systems.
Chapter 8. Working with Yahoo! Sponsored Search.
Chapter 9. Buying Traffic from Google AdWords.
Chapter 10. Harnessing MSN Keywords.
Chapter 11. Using the Second-and Third-Tier PPC Systems.
Chapter 12. Using Geo-Targeting.
Chapter 13. Working with Content or Contextual Placement.
Chapter 14. Other PPC Services - Shopping Directories, Yellow Pages, and More.
Part III. Managing Your Campaign.
Chapter 15. Using Click Tracking and Conversion Tracking Tools.
Chapter 16. Working with Bid-Management Tools.
Chapter 17. Avoiding Click Fraud.
Part IV. The Part of Tens.
Chapter 18. Ten Ways to Make Money Selling Clicks.
Chapter 19. Ten Ways to Stay Up-to-Date and Track Down the Details..
Index.