Paying Less Tax 2006/2007 For Dummies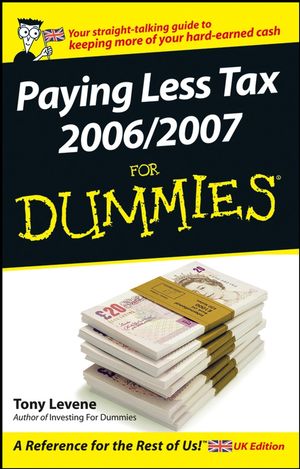 Paying Less Tax 2006/2007 For Dummies
ISBN: 978-0-470-03278-7 November 2006 348 Pages
Description
Find taxes taxing? You're not alone! With rules and regulations constantly changing, and nine million of us having to work out our tax bill for ourselves, it's no wonder that three quarters of us pay too much tax every year. Help is at hand, however, from this insider's guide to understanding tax, and paying less of it. Including the latest figures from the Spring Budget, the book outlines the basics of the tax system in plain English and shows you how you could save money by avoiding those tax pitfalls and reducing your tax bill. All aspects of tax are covered from child credit, to savings, to pay as you earn schemes, and practical advice is given to show you how your tax savings could soon add up. If you are looking for a light hearted and easy to understand introduction to keeping more of your hard earned cash, look no further!
Table of contents
Introduction.
Part I: Tax Basics.
Chapter 1: Understanding the Process and Your Role in It.
Chapter 2: Looking at the Players and the Process.
Chapter 3: Organising Your Records.
Part II: Tax, You, and Your Family.
Chapter 4: Tying the Knot – Or Not.
Chapter 5: Taxing from the Cradle to College.
Chapter 6: Taxing Issues in Your Golden Years.
Chapter 7: Preparing for the Inevitable: Death and Taxes.
Part III: You Work Therefore You're Taxed.
Chapter 8: Working for Someone Else.
Chapter 9: Paying on the Perks.
Chapter 10: Sharing in Your Firm's Fortunes.
Chapter 11: Working for Yourself Can Be Less Taxing.
Chapter 12: Considering Your Company's Status.
Part IV: Save on Your Savings and Investments.
Chapter 13: Minimising Tax on Your Savings.
Chapter 14: Taxing Investments.
Chapter 15: Saving Tax with Bricks and Mortar.
Chapter 16: Understanding Life Insurance and Tax.
Chapter 17: Depending on Pensions for Your Retirement.
Part V: Self Assessment and Getting Help.
Chapter 18: Filling In and Filing Your Self Assessment Form.
Chapter 19: Paying for Outside Help with Your Tax Affairs.
Chapter 20: Dealing with an Investigation.
Part VI: The Part of Tens.
Chapter 21: Ten Top Tax-Saving Tips.
Chapter 22: Ten Top Tips for Dealing with the Tax Inspector.
Appendix: HMRC Helplines.
Index.