Paying for Performance: A Guide to Compensation Management, 2nd Edition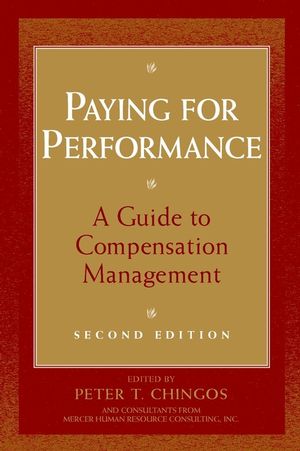 Paying for Performance: A Guide to Compensation Management, 2nd Edition
ISBN: 978-0-471-17690-9
May 2002
416 pages
Description
An up-to-date, revised edition of the complete, practical guide to designing and implementing effective compensation plans

A compensation package should be more than just the means to attract and retain talented executives. The right kind of plan can give your company a powerful strategic advantage. In Paying for Performance, Second Edition, consultants at Mercer Human Resource Consulting, Inc., one of the world's leading human resources consulting firms, give you the tools and techniques you need to design and implement a highly effective compensation program that will sharpen your company's competitive edge for years to come.

The book also shows you how to understand shareholder expectations, government regulation, and a host of business and human resources issues. Paying for Performance, Second Edition:
* Describes best practices used at America's top-performing companies
* Offers proven pay-for-performance tools for addressing current and future pay issues
* Uses case studies drawn from extensive Mercer Human Resource Consulting, Inc. research
* Addresses the special issues affecting pay-for-performance in not-for-profits
* Presents expert advice on managing talent and competencies to maximize performance
* Addresses the regulatory issues that affect executive compensation
* Covers everything from base pay to annual and long-term compensation
Buy Both and Save 25%!
Original Price:$230.00
Purchased together:$172.50
save $57.50
Cannot be combined with any other offers.
Introduction: Paying for Performance Best Practicesin a Changing Environment (Peter T. Chingos).

1. Looking at Rewards Holistically (Steven E. Gross and Haig R. Nalbantian).

2. Variable Pay Programs: Pay for Results (Rose Marie Orens and Vicki J. Elliott).

3. Performance Management: Mapping Out the Process (Loree J. Griffith and Anna C. Orgera).

4. Competency-Based Reward Design Approaches (Dana Rahbar-Daniels).

5. Managing Talent to Maximize Performance (J. Stephen Heinen, PhD, and Colleen O Neill, PhD).

6. Getting the Most from Your Sales Compensation Plan (Steven Grossman and Craig Ulrich).

7. Pay for Performance in Not-for-Profit Organizations (Martin L. Katz and Karyn Meola).

8. Designing the Annual Management Incentive Plan 9. Designing Incentive Compensation Programs to SupportValue-Based Management (Richard Harris).

10. Long-Term Incentives (Margaret M. Engel).

11. Broad-Based and Global Equity Plans (William J. T. Strahan, JD).

12. Executive Benefits (Janet Den Uyl and Patricia Kopacz).

13. A Pay-for-Performance Model (John D. Bloedorn).

14. Driving Organizational Change with ExecutiveCompensation and Communication (Donald T. Sagolla and Donna L. DiBlase).

15. Transaction-Related Compensation Arrangements (Carol Silverman, JD).

16. Director Compensation (Peter J. Oppermann).

17. The Role of the Compensation Committee (Steven L. Cross and Donald T. Sagolla).

18. Accounting for Stock-Based Compensation (Susan Eichen).

19. Selected Tax Aspects of Executive Compensation Plans (Howard J. Golden, JD).

Index.