Peace Operations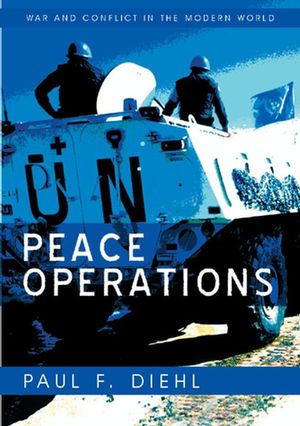 Peace Operations
ISBN: 978-0-745-65625-0
Aug 2013, Polity
208 pages
Product not available for purchase
Description
Peacekeeping has gradually evolved to encompass a broad range of different conflict management missions and techniques, which are incorporated under the term "peace operations." Well over 100 missions have been deployed, the vast majority within the last twenty years. This book provides an overview of the central issues surrounding the development, operation, and effectiveness of peace operations. Among many features, the book:
Traces the historical development of peace operations from their origins in the early 20th century through the development of modern peacebuilding missions.
Tracks changes over time in the size, mission, and organization of peace operations.
Analyses different organizational, financial, and troop provisions for peace operations, as well as assessing alternatives.
Lays out criteria for evaluating peace operations and details the conditions under which such operations are successful.
As peace operations become the primary mechanism of conflict management used by the UN and regional organizations, understanding their problems and potential is essential for a more secure world. Drawing on a wide range of examples from those between Israel and her neighbors to more recent operations in Somalia and the Congo, this book brings together the body of scholarly research on peace operations to address those concerns. It will be an indispensable guide for students, practitioners and general readers wanting to broaden their knowledge of the possibilities and limits of peace operations today.
List of Figures vi
List of Tables and Box vii
Chapter 1 Introduction 1
Chapter 2 The Historical Evolution and Record of Peace Operations 28
Chapter 3 The Organization of Peace Operations 68
Chapter 4 The Success and Failure of Peace Operations 118
Chapter 5 Ten Challenges for Future
Peace Operations 146
Appendix: Peace Operations 1948–2006 171
Notes 179
References and Suggested Readings 182
Index 189
"An excellent book, readable for both novices to the issue of peace operations, as well as for veterans. It offers an in-depth analysis of peace operations using a broad range of examples from the oldest to the most recent conflicts. The book's greatest strength is its coherent and comprehensive interpretation of peace operations and Diehl has clearly 'raised the bar' on other studies of peacekeeping."
Central European Journal of International and Security Studies
"I strongly recommend Peace Operations as a valuable addition to the library of government officials, historians, think tanks, NGOs involved in this kind of mission and especially to military officers, senior NCOs and diplomats of all levels - that is, those who are currently involved in peace operations or are destined to be deployed in future missions at some point in their careers."
Mark R. Condeno, Phillippine Coast Guard Auxiliary, Political Studies Review
"The value resides in the fact that so many issues are dealt with and summarized in a single book. As such, it constitutes a beginner's important first guide to peacekeeping."
Journal of Peace Research
"After a quarter of a century of research, few analysts are better placed than Paul Diehl to provide a clear and concise road map through the mine fields of conceptual and practical problems of 'peace operations.' Nothing could be more timely than this critical look at a growing cottage industry within the conflict management arena."
Thomas G. Weiss, The City University of New York Graduate Center
"Paul Diehl set a high standard with International Peacekeeping in 1992. Peacekeeping has changed, and Diehl has raised the bar. Admirably clear and succinct, this completely new treatment makes sense of a confusion of new operations confronting soldiers, diplomats, humanitarians, and scholars. The extensive tables are comprehensive references and teaching tools. This should be a standard text on the subject – as relevant for today's stabilization and reconstruction in the Middle East as it is for understanding the blue helmets still there after more than sixty years."
David Last, Royal Military College of Canada
"Paul Diehl, an authority on peace operations, has produced a timely and compelling account of the challenges facing peace operations that will be welcome, inspiring and deeply informative reading for both old hands and newcomers to the field alike. This book deftly combines deep insight into historical and contemporary cases with a rigorous examination of the trajectory of peace operations over the past five decades. In succinct but well informed fashion, Diehl sets out the many problems associated with peace operations, offers tools for understanding those problems and points towards some realistic solutions."
Alex Bellamy, University of Queensland


Clear and lively introduction to the central issues surrounding the development, operation, and effectiveness of peace operations

Written by one of the world's leading experts in the field

Traces the historical development of peace operations from their origins in the early 20th century through to contemporary peacebuilding missions

Draws on a wide range of examples such as peace ops between Israel and her neighbors and more recent operations in Somalia and the Congo

An indispensable guide for students, practitioners and general readers wanting to broaden their knowledge of the possibilities and limits of peace operations today