Peace Skills: Leaders' Guide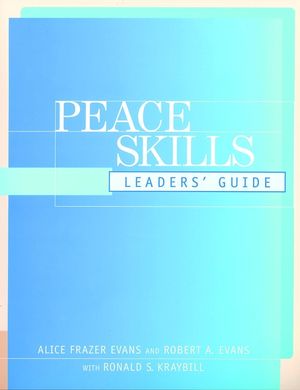 Peace Skills: Leaders' Guide
ISBN: 978-0-787-94800-9
Mar 2001, Jossey-Bass
224 pages
Description
Part of the Peace Skills Set, this Leaders' Guide is designed to prepare people to lead Peace Skills workshops in their communities. It contains several suggested workshop designs to accommodate different workshop goals, lengths, and formats; clear guidelines for teaching with role plays, case studies and sacred texts; and a broad variety of cases, role plays and specific faith texts for group discussion.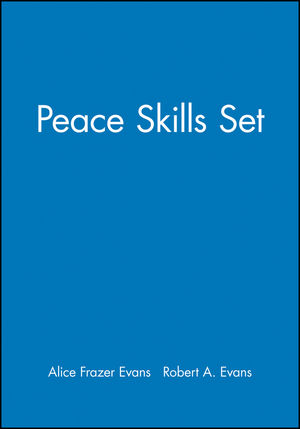 Original Price:$50.95
Purchased Together:$34.95
save $16.00
Guidelines for Community Conflict Transformation (CCT) Workshop.

Identifying the Best Workshop Facilitators.

Teaching Skills and Approaches.

Community Conflict Transformation in Practice.

How to Use the Leaders? Guide.

Section One: Facilitation Skills.

Using Role-Plays Effectively.

Creating a Safe Space for Learning.

The Learning Cycle.

Using Role-Plays in the Learning Cycle.

Debriefing Role-Plays and Using Coaches with Small Groups.

Leading Large Group Debriefing of Role-Plays.

Beyond the Role-Play.

Case Studies in Conflict Transformation: What They Are and How to Use Them.

Cases in Community Conflict Transformation.

Selecting the Right Case.

Presenting the Case.

Reading the Case.

Teaching the Case.

Additional Suggestions for Effective Case Teaching.

Annotated List of Case Studies, Teaching Notes and Role-Plays.

Sources for Additional Case Studies.

Encountering Sacred Texts.

Spiritual, Moral, and Cultural Resources.

The Power of Engagement.

Approaches to Studying Sacred Texts.

Guidelines for Group Sacred Text Study.

Annotated List of Sacred Texts.

Sources for Additional Sacred Text Selections.

Section Two: Workshop Designs.

Community Conflict Transformation Workshop: Basic Skills Training.

Designs for Brief Introductory Workshops.

Half-Day Mediation Skills Workshop.

One-Day Workshop: Introduction to Mediation.

Designing an Advanced Workshop.

Community Conflict Case Studies, Role-plays, and Sacred Text Studies.

Community Conflict Case Studies.

Beyond the Battle.

Call to Prayer.

Giving Thanks.

Lord of the Dance.

Independent Role-Plays.

Neighborhood Conflict: Children and Dogs.

The Student and the Jazz Musician.

Sacred Text Studies.

Recognition and Listening? Mark 10:46-52.

Healing and Reconciliation? Genesis 25-33.

Imagining Reconciliation with Enemies? Quran 60:7-9.

Justice and Freedom? Preamble to the Constitution of South Africa.
"The focus on community transformation and self-conscious reliance on spiritual and moral resources make the Peace Skills material distinctive." (Dr. Thomas Hoyt, Bishop of CME Church and former professor of New Testament at Howard University, ITC, and Hartford Seminary)

"Our training has allowed Jacksonville to address issues in education, housing, and the enviroment. The program has equipped more than five hundred Jacksonville leaders to be agents of community transformation and has improved the quality and ownership of important public policy decisions." (Bill Scheu, lawyer and community leader, Jacksonville, Florida)