Pediatric Robotic and Reconstructive Urology: A Comprehensive Guide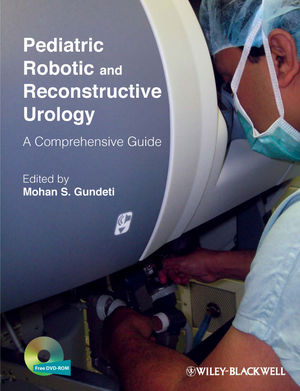 Pediatric Robotic and Reconstructive Urology: A Comprehensive Guide
ISBN: 978-1-444-34527-8 February 2012 Wiley-Blackwell 420 Pages
Description
Robotic urological surgery is one of the most significant urological developments in recent years. It allows for greater precision than laparoscopic methods while retaining quicker recovery time and reduced morbidity over classical open surgical techniques. For children, where the room for error is already reduced because of smaller anatomy, it takes on even more importance for urologists.  As a result, robotic surgery is rightly considered one of the most exciting contemporary developments in pediatric urology.
Pediatric Robotic and Reconstructive Urology: A Comprehensive Guide provides specialist and trainees with an innovative text and video guide to this dynamic area, in order to aid mastery of robotic approaches and improve the care of pediatric patients.
Full-color throughout and including over 130 color images, this comprehensive guide covers key areas including:
Training, instrumentation and physiology of robotic urologic surgery
Surgical planning and techniques involved
Adult reconstructive principles applicable to pediatrics
Management of complications, outcomes and future perspectives for pediatric urologic surgery
Also included are 30 high-quality surgical videos illustrating robotic surgery in action, accessed via a companion website, thus providing the perfect visual tool for the user.
With chapters authored by the leading names in the field, and expertly edited by Mohan Gundeti, this ground-breaking book is essential reading for all pediatric urologists, pediatric surgeons and general urologists, whether experienced or in training.
Of related interest
Smith's Textbook of Endourology, 3E
Smith, ISBN 9781444335545
Pediatric Urology: Surgical Complications and Management
Wilcox, ISBN 9781405162685
Table of contents
List of Contributors, x
Forewords by David Bloom, Arieh L. Shalhav, and Patrick Duffy, xvi
Preface, xviii
Acknowledgments, xx
Part I History, Training, Instrumentation, and Physiology, 1
1 The Evolution of Robotic Surgery and Its Clinical Applications, 3
Shyam Sukumar, Mahendra Bhandari, and Mani Menon
2 Stepwise Approach to Training for Robotic Surgery and Credentialing, 10
Jason Y. Lee and Elspeth M. McDougall
3 Role of Simulators in Robotic Surgery, 19
Thenkurussi Kesavadas and Khurshid Guru
4 Operating Room Setup and Instrumentation, 29
Frank J. Penna and Jack S. Elder
5 Different Robotic Surgical Systems and Instruments: Advantages and Disadvantages, 38
Gaayana A. Raju and Michael C. Ost
6 Transition to Robotic from Laparoscopic Surgery: Lessons Learned, 44
Vijaya Vemulakonda and Duncan T. Wilcox
7 Laparoscopy as a Foundation and Its Limitations and Pitfalls in Reconstructive Pediatric Urology, 51
Nilay S. Patel, Asif Muneer, and Imran Mushtaq
8 Limitations and Difficulties of the Present Robotic Surgical Systems for Pediatric Use: Tips and Tricks, 58
Christina Kim
9 Building a Robotic Program: a Viable Business Plan, 65
Marcelo A. Orvieto and Vipul R. Patel
10 The Basics of Robotic Surgery and a "Team Approach", 72
Gregory P. Zagaja
11 Anesthetic Considerations for Robotic Surgery, 76
Sara L. Pittenger, Michael R. Hernandez, and Catherine Bachman
12 Physiological Changes During Minimally Invasive Surgery, 87
Francisco J. Reed Lopez-Guerena, Marc-David Leclair, and Pedro-Jose Lopez E.
Part II Surgical Techniques, 93
Section 1: Renal and Adrenal Applications
13 Anatomy of Kidney and Adrenal Gland for Minimally Invasive Surgery, 97
Walid A. Farhat and Bryce A. Weber
14 Robotic-Assisted Laparoscopic Nephrectomy for Benign Kidney Disease, 104
Shiv Patel, Ardavan Akhavan, and Jeffrey A. Stock
15 Robotic Heminephrectomy, 111
Lori Dyer, Emad Riskala, and Israel Franco
16 Pyeloplasty: a Transperitoneal Approach, 120
Rita Gobet
17 Pyeloplasty: a Retroperitoneal Approach, 125
L. Henning Olsen and Yazan F. Rawashdeh
18 Robotic Pyeloplasty in Complex Renal Anomalies, 129
Aria A. Razmaria, Gautam Jayram, and Mohan S. Gundeti
19 Reconstructive Surgery in Duplex Kidney, 136
Paul H. Noh
20 Stone Treatment, 142
Pablo Gomez III, Carlo C. Passerotti, and Richard S. Lee
Section 2: Ureteral Applications
21 Robotic-Assisted Intravesical Ureteral Reimplantation, 151
Brian J. Minnillo, Giovanni S. Marchini, and Hiep T. Nguyen
22 Robotic-Assisted Extravesical Ureteral Reimplantation, 160
Pasquale Casale
23 Ureteral Defects and Retrocaval Ureter, 163
Aseem R. Shukla
Section 3: Bladder Applications
24 Anatomy of Large and Small Bowel and Appendix Including Their Blood Supply for Cystoplasty and Appendicovesicostomy with a Minimally Invasive Approach, 171
Prasad P. Godbole
25 Anatomy of the Pelvis and Lower Urinary Tract for Minimally Invasive Surgery Reconstruction, 175
Naeem Samnakay and Japinder Khosa
26 Robotic-Assisted Laparoscopic Ileocystoplasty and Continent Catheterizable Channels, 179
Mohan S. Gundeti
27 Robotic-Assisted Bladder Neck Surgery and Slings, 187
Douglas W. Storm and Joel M. Sumfest
Section 4: Other Applications
28 Bladder Diverticulum Excision, 195
Jennifer A. Hagerty and Bruce W. Lindgren
29 Robotic General Surgery in Neonates and Small Children, 199
John J. Meehan
30 Vaginoplasty: Robotically Assisted Laparoscopic Technique, 216
Christina Kim
31 Seminal Vesical Cyst Excision, 223
Michael Erhard
Part III: Adult Reconstructive Principles Applicable to Pediatrics, 229
32 Robotic NOTES (Natural Orifice Transluminal Endoscopic Surgery) in Adults: Limitations in the Pediatric Population, 231
Isuru S. Jayaratna, Vannita Simma-Chiang, Mihir M. Desai, and Chester J. Koh
33 Laparoendoscopic Single-Site (LESS) Surgery and Robotic Laparoendoscopic Single-Site (R-LESS) Surgery in Urology: Adult and Pediatric Applications, 237
Andrew J. Hung, Manuel S. Eisenberg, Inderbir S. Gill, Mihir M. Desai, and Chester J. Koh
34 Robotics in Adrenal Disease, 245
Aron Bruhn and Michael D. Stifelman
35 Alternative Techniques of Pyeloplasty in the Adult Population, 254
Narmada P. Gupta and Rajiv Yadav
36 Ureteral Defects and Ureterovaginal Fistulas, 261
Irina Stanasel and Ashok K. Hemal
37 Robotic Reconstruction Techniques Following Cystectomy, 269
Miles A. Goldstraw, Salil Umranikar, Krishna Patil, Roger S. Kirby, and Prokar Dasgupta
Part IV: Complications, Outcomes, and Future Perspective, 277
38 Robotic Surgery Complications and Safety, 279
Daniel DaJusta and Linda A. Baker
39 Robotic Surgery Outcomes: Upper Urinary Tract, 290
Hsi-Yang Wu and Douglas A. Canning
40 Robotic Surgery Outcomes: Lower Urinary Tract, 293
Rosalia Misseri and Martin Kaefer
41 Family Perceptions and Impact of New Technology on Decision Making, 298
Shawn M. Beck and Antoine E. Khoury
42 The Asian Continent: Is It Ready for New Technology? An Indian Perspective, 305
Rajendra B. Nerli, Mallikarjuna N. Reddy, and Sujit K. Chowdhary
43 The Asian Continent: Is It Ready for New Technology? A Chinese Perspective, 312
Jie Sun
44 Telerobotics: Its Future in Clinical Application, 314
Thomas S. Lendvay, Jacob Rosen, and Blake Hannaford
45 Role of Haptics in Robotic Surgery: Present and Future Applications, 328
Young Soo Park, Kyu Suk Baek, and Mohan S. Gundeti
Index, 337