Peer Review in Health Sciences, 2nd Edition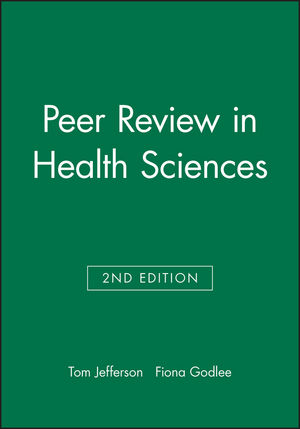 Peer Review in Health Sciences, 2nd Edition
ISBN: 978-0-727-91685-3 September 2003 BMJ Books 392 Pages
Description
This book has established itself as the authoritative text on health sciences peer review. Contributions from the world's leading figures discuss the state of peer review, question its role in the currently changing world of electronic journal publishing, and debate where it should go from here. The second edition has been thoroughly revised and new chapters added on qualitative peer review, training, consumers and innovation.
Introduction.
Editorial peer review.
Peer review of grant applications.
Editorial peer review: the state of the evidence.
The effectiveness of editorial peer review.
Innovation.
Bias, subjectivity and chance.
Misconduct and journal peer review.
Peer review and the pharmaceutical industry.
Small journals and non-English language journals.
How to set up a peer review system.
Training.
How to peer review a script.
Statistical peer review.
Peer review of economic submissions.
Qualitative peer review.
Ethical conduct in grant applications and manuscripts.
Consumers.
An author's guide to peer review.
Peer review on the internet.
The use of systematic reviews.
Alternatives to peer review.
Socrates.
The future.
Appendix A.
Appendix B.
Appendix C