Pentecostalism: The World Their Parish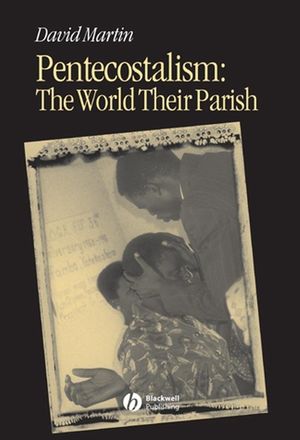 Pentecostalism: The World Their Parish
ISBN: 978-0-631-23120-2
Nov 2001, Wiley-Blackwell
216 pages
Description
This book deals with the largest global shift in religion over the last forty years, the astonishing rise of Pentecostalism and charismatic Christianity.
Preface.
Proposed argument.
1. A Cultural Revolution: Sources, Character, Niches.
2. North America and Europe: Contrasts in Receptivity.
3. Latin America: A Template?.
4. Latin America: Ambiguity in Different Cultural Sectors.
5. Indigenous Peoples.
6. Africa.
7. Asia.
8. Trying Conclusions: A Global Option?.
Index.
"
Pentecostalism: The World Their Parish
deals with the phenomenon of 'charismatic' Christianity in a context and style very far from the superficial categories in which it often gets discussed, raising substantive issues for the whole question of the future of Christianity. He is sympathetic but not uncritical, and manages to distinguish much that is habitually blurred. As a scholar of Latin American Pentecostalism, he is in the first rank. He writes as always with grace and clarity. It is exactly the kind of book most commentators on religion ought to read, with its careful dismantling of cliches about fundamentalism and its plea for a culturally nuanced account of pentecostal piety."
The Most Revd Rowan Williams, Archbishop of Wales
"David Martin ranks as one of the leading scholarly interpreters of world pentecostalism and its 'charismatic penumbra'. In this work he once again demonstrates his mastery of the cultural dynamics that have informed the movement's global sweep, as well as the differences that have marked sub-traditions, territories, localities and social groupings. Challenging glib secularization theories, Martin persuasively traces the functionality of pentecostal spirituality in modern society. He combines the rigor of the sociologist with the narrative skill of the historian, readily crisscrossing the boundaries that have separated those disciplines. The book is witty, elegantly written, and brimming with insights as sage as they are subtle." Grant Wacker, Duke University

"[Many] questions come teeming out of Professor Martin's instructive pages as he turns his attention to other parts of the world, for which Latin America is merely a template." Times Literary Supplement

"David Martin...is a doyen of British sociology of religion. It is good to have a new book from him on this important issue. His main interest has been in South America, although he shows that he is fully aware that Pentecostalism is just as strong in many parts of Africa. [He offers] a fascinating and important picture." Church Times

"The textured approach to the varieties of cultures and different inculturations of Pentecostalism both enhances the quality of the study and the usefulness of the book." Jeffrey Gros, Secretariat for Ecumenical and Inter-religious Affairs of the United States Conference of Catholic Bishops

"This work of synthesis constitutes for years to come a privileged reference point, for whoever works on Pentecostalism or Secularization." Archives de Sciences Sociales

"A scholar not only of profound learning but considerable originiality. Pentecostalism: The World Their Parish sustains his reputation as one of the best sociologists of religion in the world." Reviews of Religious Research

"This book demonstrates...that having been so much of a pioneer in the study of religion and globalisation, Martin remains a major authority. It represents sophisticated and thought-provoking scholarship for all those concerned to map the changing dynamics of contemporary Christianity." Modern Believing

"Pentecostalism: The World Their Parish is the newest effort on the subject of contemporary Pentecostalism by one of today's leading sociologists of religion, David Martin. This book, a work of sweeping reach and comprehensive synthesis aimed at examining Pentecostalism in a global context ..." Journal of Religion

"A trail-blazing book, then, on a spiritual fire that has encircled the world within a century." William K. Kay, Reviews in Religion and Theology

"The book offers insightful interpretations, clear conceptualizations, and a richness of empirical overview that is reminiscent of Max Weber's writing. It nicely synthesizes much of the recent literature on its theme. Perhaps most significantly, Martin demonstrates how religion, even and especially the apolitical religion of the culturally despised subaltern, is a regular feature of the global social landscape: not a remnant, not a faute de mieux, but a vital resource for getting along in this world. As such, it will be of interest to anyone who seeks a better understanding of the global society in which we all live." American Journal of Sociology

"This book on Pentecostalism is a good complement to Martin's earlier exploration of contemporary evangelical growth, usefully pulling together many strands of recent research on Pentecostalism. As usual, Martin combines his sociological rigor with his attention to cultural and historical matters, giving us a broad picture of Pentecostalism within the framework of a wider sociological theory." The Journal of Religion

"Well-written, informative, and full of stimulating thoughts, this book is a 'must' not only for those involved in the study of Pentecostal-charismatic churches and searching for a more encompassing perspective, but for anyone contemplating the future of religion in the twenty-first century." Journal of Contemporary Religion

"Martin surverys, sympathetically but critically, "the largest global shift in the religious market place over the last 40 years" and relates it in both sociological and historical terms to cultural change." Choice

"His discussions on the economic empowerment of Pentecostalism and the repudiation of secularization alone make this book worth reading." Missiology


Offers a guide to the rise and spread of Pentecostalism and charismatic Christianity across five continents.


Explains why and how the Pentecostal movement crosses cultural boundaries.


Raises substantive issues for the future of Christianity


Written by a leading sociologist of religion.