People Module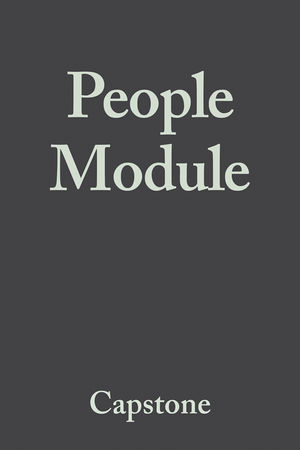 People Module
ISBN: 978-1-841-12184-0 July 2002 Capstone 960 Pages
Description
How does a faceless organization interact with its hugely unpredictable workforce to inspire and motivate people to better performance? How can staff be retained and retrained to keep pace with the technological revolution? This module presents the latest techniques and philosophies being applied in today's HR world, including teamworking, reward management and flexible working.
ExpressExec is a unique 12 modular resource of current business practice. Each module contains 10 individual titles that combined cover all the key aspects of business practice globally today.
Written by leading experts in their field and commissioned specifically for ExpressExec the knowledge imparted provides an executive with the tools and skills to increase their contribution to an organisation. Each title gives you the key concepts behind the subject and the techniques to implement the ideas effectively, together with lessons from benchmark companies and ideas from the world's smartest thinkers.  
The 10 books in the ExpressExec People module are:
1. People Express
2. Global HR
3. E-People
4. Recruiting and Retaining People
5. Teamworking
6. Managing Diversity
7. Motivation
8. Managing the Flexible Workforce
9. Performance and Reward Management
10. Training and Development
ExpressExec is a perfect learning solution for people who need to master the latest business thinking and practice quickly.
Table of contents
Introduction to Express Exec

Introduction

Definition of Terms

Evolution

The E-Dimension

The Global Dimension

The State of the Art of Recruitment and Retention

In Practice

Key Concepts and Thinkers

Resources

Ten Steps to Making Recruitment and Retention Work

Frequently Asked Questions (FAQs)

Index