Perfect Pitch: The Art of Selling Ideas and Winning New Business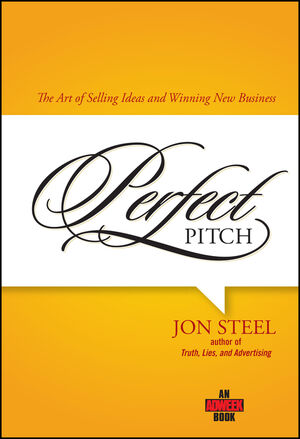 Perfect Pitch: The Art of Selling Ideas and Winning New Business
ISBN: 978-0-471-78976-5
Oct 2006
288 pages
Description
A professional "pitching coach" for one of the world's largest marketing conglomerates, Jon Steel shares his secrets and explains how you can create presentations and pitches that win hearts, minds, and new business. He identifies the dos and don'ts and uses real-world examples to prove his points. If you make pitches for new business, this is the perfect book for you.
Introduction: An Audience with Steve Jobs. Chapter 1. Presentation Crime: Why Most Presentations Fail. Chapter 2. Imperfect Pitch: The People of the State of
California
v. Orenthal James Simpson. Chapter 3. Bill Clinton, Johnnie Cochran, and a London Hooker: Learning from the World's Best Presenters. Chapter 4. Making Connections: Planning the Perfect Pitch. Chapter 5. Trevor's Sledgehammer: Crating room for Thought. Chapter 6. We Will Fight them in the Boardroom: How to Run a Great Idea by Presenting it Badly. Chapter 7. Benign Dictatorship: Leading the Perfect Team Pitch. Chapter 8. The Pitch and Beyond: How to Leave the Client Wanting More. Chapter 9. The Perfect Pitch:
London
's Winning bid for the 2012 Olympic Games. Acknowledgments. Bibliography. Index. About the Author.
"...pitching is a necessary evil, and here Steel dispenses his wisdom on how to come through the other side" (The Drum, October 17th 2008)