Performance Coaching For Dummies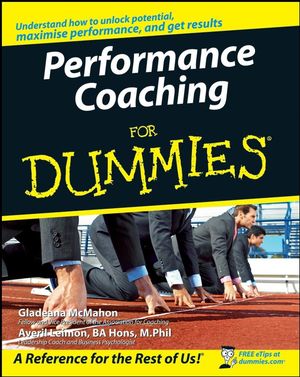 Performance Coaching For Dummies
ISBN: 978-0-470-51748-2
Feb 2012
304 pages
Description
Performance coaching is a modern and rapidly growing method used to assist development, and involves helping individuals to improve their performance in all areas of their life, with a particular emphasis on the workplace. Performance coaching draws parallels with NLP and often focuses on the psychology of excellence – making what's good even better, and helping individuals keep ahead of the game. On an organisational level it can include helping managers to consider how to get the best from their staff, peers and superiors, as well as helping to identify strengths, weaknesses, opportunities and threats. A performance coach assists individuals in building on their successes and helps to design, plan and instigate successful business/life strategies.

Despite its popularity confusion still surrounds coaching. It is a relatively new area and there is still a lack of understanding about how best to use coaching and in what specific situations it will be most effective. In addition to this, anyone can assume a performance/professional/business/life coach title without holding any particular qualification or registration. With this increased awareness and confusion the need for a no-nonsense book on the topic that offers trusted advice is needed all the more, which is where Performance Coaching For Dummies steps in.
Introduction.
Part I: Getting to Grips: Introducing Performance Coaching.
Chapter 1: Coaching for Performance.
Chapter 2: Getting the Process Right.
Chapter 3: Deciding What You Want to Achieve and Setting the Structure.
Part II: Does Your Face Fit?: The Personal Attributes of a Performance Coach.
Chapter 4: Starting the Relationship with Trust and Respect.
Chapter 5: Getting Your Hands Dirty: The Practical Skills of Performance Coaching.
Chapter 6: Advancing Your Skills: The Magic of Motivation.
Chapter 7: Equipping Your Coaching Toolkit.
Part III: Applying Performance Coaching.
Chapter 8: Getting the Best: Talent Management.
Chapter 9: Managing Change.
Chapter 10: Following the Organisational Life Cycle.
Chapter 11: Managing Careers.
Chapter 12: Getting the Best Out of Your Teams.
Part IV: Troubleshooting in Performance Coaching.
Chapter 13: Coping with Difficult Situations.
Chapter 14: Overcoming Negativity.
Chapter 15: Managing Organisational Problems.
Part V: The Part of Tens.
Chapter 16: Ten Steps to Performance Excellence.
Chapter 17: Ten Steps to Coaching Yourself.
Chapter 18: Ten Useful Resources.
Appendix: Forms.
Index.