Performance Consulting: Applying Performance Improvement in Human Resource Development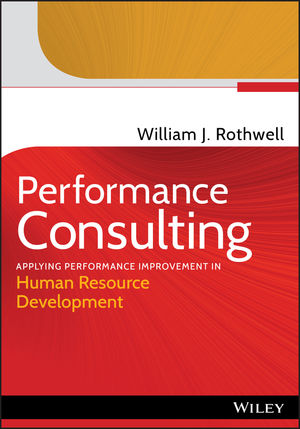 Performance Consulting: Applying Performance Improvement in Human Resource Development
ISBN: 978-1-118-41911-3
Nov 2013, Pfeiffer
528 pages
Description
Praise for Performance Consulting
"You hold in your hands an outstanding portrayal of the half-century evolution of performance improvement. Rothwell and his colleagues have written the most comprehensive performance consulting book on the market. From data collection and analysis to implementing solutions, Performance Consulting provides a roadmap to guide you on the path to becoming a successful performance consultant. The roadmap includes countless signposts in the form of exercises, processes, examples, tools, and advice to ensure you reach your final destination successfully."
—Elaine Biech, president, ebb associates and author of The Business of Consulting
"This book provides a wealth of resources performance consultants can use for performance analysis and solution selection. The many case studies, references, and discussion questions throughout the text make this book both practical and substantive."
—Dana and Jim Robinson, co-authors of Performance Consulting: A Practical Guide for HR and Learning Professionals
"In today's economic realities, performance consulting and performance improvement are critical to organizational success. The challenge for human resource development professionals is to shift the focus to performance improvement, not just applying classic training and learning solutions. Rothwell and his team have assembled perhaps the most comprehensive reference on this important field, complete with examples, illustrations, and a description of all of the pertinent models. This will be a 'must have' reference for any person involved in human resource development and human capital development."
—Jack Phillips Ph.D., chairman, ROI Institute, author of The Value of Learning
List of Tables, Figures, and Exhibits v
Preface xiii
Acknowledgments xvii
About the Editors xix
PART ONE Thinking Beyond Training 1
ONE Why Training 3
George M. (Bud) Benscoter
TWO Moving Toward Performance Consulting 37
George M. (Bud) Benscoter
THREE Role Transformation 69
William J. Rothwell
PART TWO Problems and Opportunities in Human Performance 87
FOUR Analyzing the Present 89
Woocheol Kim
FIVE Envisioning the Future 129
Woocheol Kim
PART THREE Initiating Performance Consulting 163
SIX Gap Clarification 165
Taesung Kim
SEVEN Prioritizing Gaps 191
Taesung Kim
EIGHT Identifying the Root Causes of Performance Gaps 209
Taesung Kim
PART FOUR Implementation of Performance Consulting (PC) Strategies 233
NINE Selecting Performance Consulting Strategies 237
Aileen Guerrero Zaballero
TEN Implementing Performance Consulting Strategies: The External Organizational Environment 280
Aileen Guerrero Zaballero
ELEVEN Implementing Performance Consulting Strategies: The Internal Work Environment 313
Aileen Guerrero Zaballero
TWELVE Implementing Performance Consulting Strategies: The Work 338
Aileen Guerrero Zaballero and Jong Gyu Park
THIRTEEN Implementing Performance Consulting Strategies: The Worker 372
Jong Gyu Park and Aileen Guerrero Zaballero
PART FIVE Evaluating Performance Consulting 413
FOURTEEN Evaluating Performance Consulting 415
George M. (Bud) Benscoter
APPENDIX: Establishing Rapport and Connecting Performance Consulting to Business Goals 452
Answers to Discussion Questions 456
Name Index 483
Subject Index 489