Performance Funding for Public Higher Education: Fad or Trend?: New Directions for Institutional Research, Number 97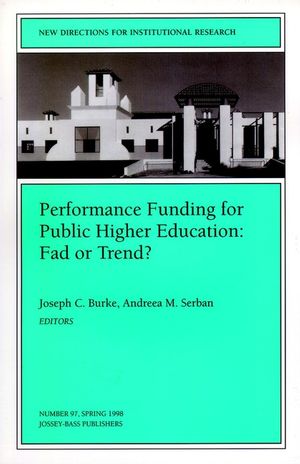 Performance Funding for Public Higher Education: Fad or Trend?: New Directions for Institutional Research, Number 97
ISBN: 978-0-787-91417-2 August 1998 Jossey-Bass 110 Pages
Description
Performance funding for public higher education has become a popular topic in state capitols in the 1990s. The time seemed right for tying resources to results. Performance funding represents the most recent step in the search for external accountability and improved performance that started with outcomes assessment and performance reporting. The chapters in this volume examine the conflicts and issues raised by performance funding as well as the similarities and differences in state programs. They reflect the information gathered and lessons learned from a national study of performance funding supported by The Pew Charitable Trusts. This is the 97th issue of the quarterly journal New Directions for Institutional Research.
Table of contents
1. Performance Funding: Present Status and Future Prospects (Joseph C. Burke).
2. Precursors of Performance Funding (Andreea M. Serban).
3. State Synopses of Performance Funding Programs (Joseph C. Burke & Andreea M. Serban).
4. Performance Funding Indicators: Concerns, Values, and Models for State Colleges and Universities (Joseph C. Burke).
5. Performance Funding Criteria, Levels, and Methods (Andreea M. Serban).
6. Opinions and Attitudes of State and Campus Policymakers (Andreea M. Serban).
7. Performance Funding: Arguments and Answers (Joseph C. Burke).
References.
Appendix A: Categories of Indicators and Measures.
Appendix B: Performance Funding Indicators: Number and Applicability by Sector.
Appendix C: Performance Funding Opinion and Attitude Survey.
Appendix D: Hypothetical Performance Funding Plan.