Performance Management: Integrating Strategy Execution, Methodologies, Risk, and Analytics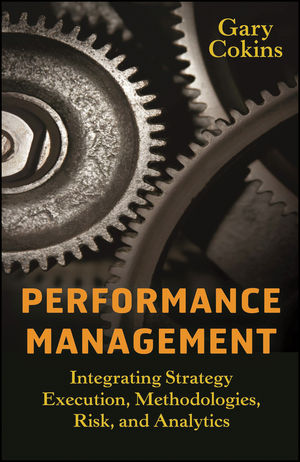 Performance Management: Integrating Strategy Execution, Methodologies, Risk, and Analytics
ISBN: 978-0-470-47119-7 March 2009 240 Pages
Description
Praise for Praise for Performance Management: Integrating Strategy Execution, Methodologies, Risk, and Analytics
"A highly accessible collection of essays on contemporary thinking in performance management. Readers will get excellent overviews on the Balanced Scorecard, strategy maps, incentives, management accounting, activity-based costing, customer lifetime value, and sustainable shareholder value creation."
—Robert S. Kaplan, Harvard Business School; coauthor of The Balanced Scorecard: Translating Strategy into Action, The Execution Premium, and many other books
"Gary Cokins demonstrates in this book that performance management is not a mysterious black art, but a structured, process-oriented discipline. If you want your performance management system to be a smoothly running analytical machine, read and apply the ideas in this book—it's all you need."
—Thomas H. Davenport, President's Distinguished Professor of Information Technology and Management, Babson College; coauthor of Competing on Analytics: The New Science of Winning
"Drawing on a deep reservoir of knowledge and experience gained from hundreds of customer engagements around the world, Gary Cokins offers an authoritative examination of the major dimensions of performance management. Cokins not only paints a rich and textured view of the major principles and concepts driving performance management implementations, he offers a nuanced look at the important subtleties that can spell the difference between success and failure. This is an informative and enjoyable text to read!"
—Wayne Eckerson, Director of Research, The Data Warehouse Institute (TDWI); author of Performance Dashboards: Measuring, Monitoring, and Managing Your Business
"[In this] very insightful book, the view of an integrated performance management framework with a goal to link various operational activities with business strategy is an excellent approach to manage and improve business. Gary's explanation of risk-based performance management, for providing the capability to achieve long-term objectives with reliably calculated risks, is definitely thought provoking."
—Srini Pallia, Global Head and Vice President of Business Technology Services, Wipro Technologies, Bangalore, India
"Gary Cokins is clearly one of the world's thought leaders in the area of performance management, and the need for integrated performance management, improvement and execution is clearly at a premium in these challenging economic times. This book is a must read for CEOs, CFOs, and management accountants around the globe seeking higher levels of sustainable business performance for their stakeholders."
—Jeffrey C. Thomson, President and CEO, Institute of Management Accountants
About the Author.
Preface.
PART ONE: INTRODUCTION.
1 Rules for Ensuring Poor Performance.
2 Performance Management: Myth or Reality?
3 What Will Be the Next New Management Breakthrough?
4 The Future: Enterprise Risk-Based Performance Management.
PART TWO: PERFORMANCE MANAGEMENT OVERVIEW.
5 Why the High Interest in Performance Management Now?
6 Human Capital and Workforce Management: Art or Science?
7 Tipping Point for Performance Management.
8 An Interview with a CEO You Might Want to Work For.
9 Does ''A Word to the Wise'' Mean Ignore the Dummies?
PART THREE: PERFORMANCE MANAGEMENT SUPPORTS BUSINESS INTELLIGENCE AND DECISION MAKING.
10 How Do Business Intelligence and Performance Management Fit Together?
11 CEO's Targeted Financial Return: A Goal or a Wish?
PART FOUR: IMPLEMENTING PERFORMANCE MANAGEMENT.
12 First Barrier to Performance Management: How Do We Get Started?
13 Where Do You Begin Implementing Performance Management?
14 The Many Rooms of the Organization Mansion.
15 Accountability and Incentives for Rewards: How Disconnected Are They?
16 Why Do You Have to Be a Sociologist to Implement Performance Management?
PART FIVE: STRATEGY MAPS, THE BALANCED SCORECARD, AND DASHBOARDS.
17 The Promise and Perils of the Balanced Scorecard.
18 How Are Balanced Scorecards and Dashboards Different?
19 When Performance Management Becomes Surgery.
PART SIX: FINANCIAL PERFORMANCE MANAGEMENT.
20 Do Accountants Lead or Mislead?
21 Confusion with Managerial Accounting.
22 What Is Broken about Budgeting?
23 Put Your Money Where Your Strategy Is.
PART SEVEN: CUSTOMER VALUE MANAGEMENT.
24 From Working for the Boss to Working for the Customer.
25 How Profitable to Us Is Each Customer Today—and Tomorrow?
26 Optimizing Customer Lifetime Economic Value.
PART EIGHT: PERFORMANCE MANAGEMENT AND SHAREHOLDER WEALTH CREATION.
27 Can Performance Management Accomplish What Einstein Could Not?
28 Why Do Capital Market Organizations Underachieve Their Planned ROI?
29 Will Private Equity Funds Turbocharge Applying Performance Management?
PART NINE: ENVIRONMENTAL PERFORMANCE MANAGEMENT.
30 Social and Environmental Performance Management.
31 How Is a Chief Financial Officer Affected by the Sustainability Movement?
PART TEN: CONCLUSION.
32 Christmas Gift Letter to Santa Claus.
33 Performance Management from Future Diaries.
34 A Dear-CEO Advice Column You Might Want to Read.
35 From Nag to Wag: Why Performance Management Now?
Index.