Performance Management and Evaluation: New Directions for Evaluation, Number 137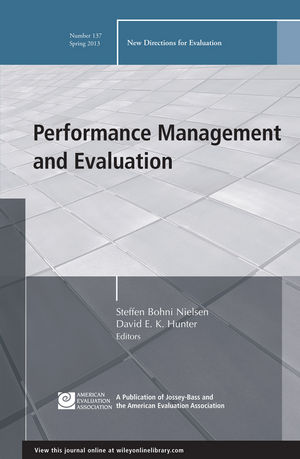 Performance Management and Evaluation: New Directions for Evaluation, Number 137
ISBN: 978-1-118-64632-8 March 2013 Jossey-Bass 136 Pages
Description
This issue focuses on connections between performance management and evaluation, a contentious topic at the moment. It does so by placing evaluation and monitoring under the overarching concept of performance management, and then by investigating five complementarities between performance monitoring and measurement on the one hand, and evaluation on the other. These complementarities are:
Sequential
Informational
Organizational
Methodical
Hierarchical.
Several case studies discuss the uses and complementarities of evaluation and performance management in contexts including national and local governments and the work of government, philanthropic foundations, and a direct-service nonprofit agency. These cases illustrate the advantages and pitfalls in utilizing evaluative approaches within the context of performance management.
This is the 137th volume of the Jossey-Bass quarterly report series New Directions for Evaluation, an official publication of the American Evaluation Association.
STATEMENT OF THE EDITOR-IN-CHIEF 1
Paul R. Brandon
EDITORS' NOTES 3
Steffen Bohni Nielsen, David E. K. Hunter
1. Performance Management and Evaluation: Exploring Complementarities 7
David E. K. Hunter, Steffen Bohni Nielsen
This chapter presents an overview of the key components of performance management. It then argues that complementarity between performance management and evaluation does exist, but it is located between two forms of knowledge production—evaluation and performance measurement—both of which must form part of managing performance.
2. Sorting the Relationships Among Performance Measurement, Program Evaluation, and Performance Management 19
Harry P. Hatry
This chapter highlights the recent history of program evaluation, performance measurement, and performance management in the United States. It then discusses the relationships among program evaluation and performance measurement and desirable improvements, including linking data on costs and effectiveness.
3. Transforming Silo-Steering Into a Performance Governance System: The Case of the Finnish Central Government 33
Petri Uusikylä
This article discusses efforts by the Finnish central government to reform performance management. It is argued that monitoring and evaluation lack integration, resulting in limited use of both. It is considered that this is a result of a governance model that lacks a holistic approach to addressing societal problems.
4. Rethinking the Relationship Among Monitoring, Evaluation, and Results-Based Management: Observations From Canada 45
Robert Lahey, Steffen Bohni Nielsen
This chapter presents the evolving monitoring and evaluation system at the federal level of the government of Canada. It is argued that,despite emphasis on both monitoring and evaluation, emphases on management and accountability have shifted and a more balanced and strategic approach is needed.
5. Performance Management and Evaluation in the Danish Public Employment Service 57
Joachim Boll, Lars Høeberg
This chapter surveys the monitoring and evaluation system supporting managing for performance in the Danish Public Employment System. It is argued that an integrated monitoring and evaluation system has proven valuable for policy and program design but less for front-line service delivery.
6. The Emergence of Performance Measurement as a Complement to Evaluation Among U.S. Foundations 69
Elizabeth T. Boris, Mary Kopczynski Winkler
This chapter outlines the evolution of evaluation and performance measurement and management efforts in American philanthropic foundations. It is argued that there is little recognition that these forms of knowledge are complementary and both are required in high-performing foundations and nonprofits.
7. Citizen-Driven Performance Measurement: Opportunities for Evaluator Collaboration in Support of the New Governance 81
Patria de Lancer Julnes
This chapter surveys the parallel emergence of performance measurement and community indicators in the United States. Despite obvious similarities little effort has been made to integrate the two. The author suggests that evaluation tools and practices can integrate them.
8. Performance Management and Evaluation in Norwegian Local Government: Complementary or Competing Tools of Management? 93
Åge Johnsen
Drawing on empirical studies of performance management in Norwegian local government, this chapter argues that although performance management and evaluation complement one another, they also compete for institutional power and scarce resources.
9. Managing for Results in the U.S. Not-for-Profit Sector: Applying Complementary Approaches of Knowledge Production at the Center for Employment Opportunities 103
Brad Dudding, Steffen Bohni Nielsen
In this article the authors survey how the Center for Employment Opportunities manages its performance through the use of both performance measurement and monitoring and evaluation. Against this background it is argued that these, taken together, inform operational, tactical, and strategic decision making.
10. Challenges to and Forms of Complementarity Between Performance Management and Evaluation 115
Steffen Bohni Nielsen, David E. K. Hunter
This chapter outlines challenges to implementing performance management, and in doing so analyzes the differing contexts in which contributions to this issue are situated. Finally, the five different types of complementarity between evaluation, performance management, and performance measurement are outlined.
INDEX 125