Periodontology at a Glance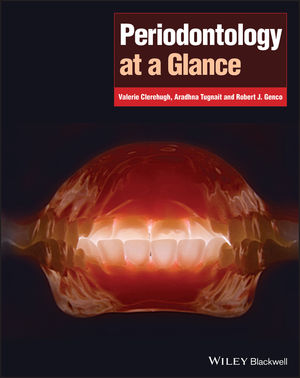 Periodontology at a Glance
ISBN: 978-1-118-69133-5
May 2013, Wiley-Blackwell
104 pages
Description
Periodontology at a Glance adds another dentistry title to this popular series. It provides readers with an easy-to-use tool to assimilate the key information about periodontics by illustrating each topic with a double-page spread that encapsulates essential knowledge.  Clear diagrams and clinical pictures are accompanied by succinct text, providing a highly visual format to facilitate ease of learning. Suggestions for further reading are provided selectively where appropriate, and the authors present a useful distillation of the salient research literature.

Structured over 43 topics, Periodontology at a Glance covers:
Anatomy of the periodontium
Aetiology, diagnosis and classification of periodontal diseases
Surgical and non-surgical therapies
Patient management
Risk factors, including systemic disease
Periodontology at a Glance provides a brief but comprehensive overview of periodontology. It will be a popular and useful resource for dentistry students, qualified dentists seeking a refresher, and other dental professionals.
Preface.
Acknowledgements and dedication.
1 Anatomy of the periodontium.
2 Classification of periodontal diseases.
3 Periodontal epidemiology.
4 Role of plaque in the aetiology of periodontal diseases.
5 Plaque microbiology.
6 Calculus.
7 Host defences.
8 Development of periodontal diseases.
9 Progression of periodontal diseases.
10 Risk and periodontal diseases.
11 Systemic risk factors for periodontal diseases.
12 Periodontal diseases and general health.
13 Diet and periodontal diseases.
14 Local risk factors for periodontal diseases.
15 Occlusion and periodontal diseases.
16 Periodontal history, examination and diagnosis.
17 Periodontal screening.
18 Role of radiographs in periodontal diagnosis.
19 Principles of periodontal diagnosis and treatment planning.
20 Plaque control and non-surgical periodontal therapy.
21 Patient communication in dental care.
22 Periodontal tissue response, healing and monitoring.
23 Role of antimicrobial therapy in periodontal diseases.
24 Periodontal surgery.
25 Types of periodontal surgery.
26 Regenerative periodontal therapy.
27 Bone defects and furcation lesions.
28 Dental implants and peri-implantology.
29 Periodontic–orthodontic interface.
30 Plaque-induced gingivitis.
31 Non-plaque-induced gingival conditions and lesions.
32 Gingival recession.
33 Gingival overgrowth.
34 Chronic periodontitis.
35 Aggressive periodontitis.
36 Periodontal management of patients who smoke.
37 Periodontal management of patients with diabetes.
38 Necrotising periodontal diseases.
39 Periodontal abscess and periodontic–endodontic lesions.
40 Periodontal diseases in children and adolescents.
41 Periodontal management of the older adult.
42 Team working in dental care.
43 The decision to treat or refer periodontal patients.
Appendix: Further reading.
Index.


Focuses on "need to know" aspects of the subject

Illustrated with full colour clinical photographs and drawings

Double-page spreads facilitate easy learning and recall of information

Reflects trans-atlantic perspectives