Persistent Organic Pollutants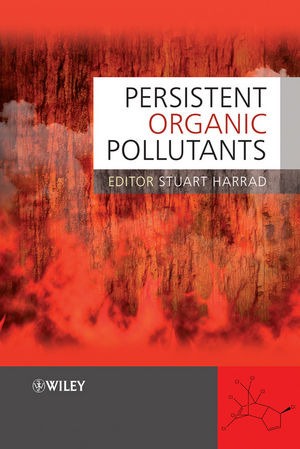 Persistent Organic Pollutants
ISBN: 978-0-470-68413-9
Nov 2009, Wiley-Blackwell
288 pages
Description
Persistent Organic Pollutants (POPs) are toxic, resistant to degradation, bioaccumulative, and display wide spatial distribution. They accumulate in humans and wildlife, and have been linked to cancer, as well as reproductive and immunological disorders. In 2001 a global treaty on POPs was agreed, to minimise and ultimately eliminate the release of POPs into the environment. The Stockholm Convention lists 12 groups of chemicals, and as of late 2008, a further 12 chemicals are under consideration for inclusion.

This book addresses all of these chemicals, but focuses particularly on currently listed POPs that are still of major concern (e.g. polychlorinated biphenyls - PCBs), as well as new and emerging POPs that have been the subject of an explosion of scientific interest in the last decade, i.e. brominated flame retardants (BFRs) and perfluorinated  chemicals (PFCs). Other chapters address the challenges posed by the presence of POPs in the developing world; how the properties of chiral POPs can provide unique insights into their environmental sources, fate and behaviour; and issues arising from the presence of POPs in urban and indoor environments. Persistent Organic Pollutants provides a much-anticipated reference source for a wide audience including academics, industrial scientists and regulators.
1. Beyond the Stockholm Convention: An Introduction to Current Issues and Future Challenges in POPs Research
(
Stuart Harrad
).
References.
2. Brominated Flame Retardants (Robin J. Law).
2.1 Introduction.
2.2 Sources.
2.3 Overview of measurement techniques.
2.4 Physico-chemical properties and their influence on environmental fate and behaviour.
2.5 Overview of toxicology.
2.6 Environmental levels – present, past and future temporal trends.
2.7 Human exposure – magnitude and relative significance of pathways.
2.8 Summary/Conclusions.
Acknowledgements.
References.
3. Perfluoroalkyl Compounds (Naomi L. Stock, Derek C. G. Muir, and Scott Mabury).
3.1 Introduction and Nomenclature.
3.2 Manufacturing and Production.
3.3 Overview of Toxicology.
3.4 Physical Chemical Properties  and Environmental Fate.
3.5 Overview of Measurement Techniques.
3.6 Human Exposure.
3.7 Sources of PFCs to the Environment.
3.8 Environmental Measurements.
References.
4. Chirality as an Environmental Forensics Tool (Charles S. Wong, Nicholas A. Warner).
4.1 Introduction.
4.2 Classes of Chiral Legacy and Persistent Organic Pollutants.
4.3 Measuring and Quantifying Enantiomer Composition of POPs.
4.4 Chirality to Characterize Environmental Biochemical Processes.
4.5 Chirality to Quantify Rates of Biotransformation.
4.6 Chirality as a tool for Pollutant Source Apportionment.
4.7 Caveats in using Chirality to probe Biologically-Mediated Environmental Processes.
4.8 Conclusions.
Acknowledgements.
References.
5. Persistent Organic Pollutants in the Developing World (Bondi Gevao, Henry Alegria, Foday M. Jaward and Mirza U. Beg).
5.1 Introduction.
5.2 Sources of POPs in developing countries.
5.3 Levels of POPs in developing countries.
5.4 Problems related to POPs in Developing Countries.
5.5 Conclusions.
References.
6. Sources, Fate and Effects of Contaminant Emissions in Urban Areas (Erin Hodgeand Miriam Diamond).
6.1 Introduction.
6.2 Chemical Emissions in Urban Areas.
6.3 Chemical Mixtures in Urban Media.
6.4 Urban Chemical Signatures.
6.5 Emissions and Environmental Degradation.
6.6 Urban Form and Chemical Emissions.
6.7 A Quantitative Model of Contaminant Fate in Urban Areas.
6.8 Future Directions.
Acknowledgements.
References.
7. The Contamination of Indoor Environments with Persistent Organic Pollutants (Stuart Harrad).
7.1 Introduction.
7.2 Methods of Sampling.
7.3 Sources and Levels of Indoor Contamination.
7.4 Relative Significance of Indoor Exposure.
7.5 Uncertainties in Estimates of Exposure via Dust Ingestion and Indoor Air Inhalation.
7.6 International Differences in Indoor Contamination.
7.7 Concentrations in Different Microenvironment Categories.
7.8 Influence of Indoor Contamination on Outdoor Contamination.
7.9 Future Research Priorities.
References.
8. The Chemicals that will not go away: Implications for Human Exposure of Reservoirs of Pops (Miriam Diamond and Stuart Harrad).
References.
This will be the first book to cover emerging and candidate POPs